Denver Parking at Capitol Hill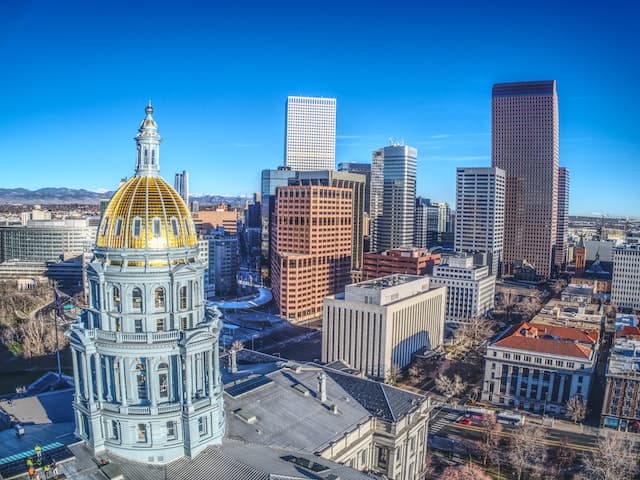 Parking in Capitol Hill, Denver
Looking for cheap and affordable parking in Capitol Hill, Denver? On Air Parking offers a parking deal you can only get from us, with our low rates beginning at merely $1.99/day*!
Our parking is guaranteed, and there are absolutely no questions asked should you need to cancel or request a refund. Cancellation is FREE, as always. Purchase your affordable parking today!
To learn more about our fantastic parking offer in Capitol Hill, keep reading!
*On Air Parking prices begin at the low price of $1.99 and are subject to change based on available inventory and holiday charges.
FAQ
What's the address of your parking lot?
You should receive an email within 10 minutes of your purchase with the parking facility's name and address at which you'll be parking. If it's hard to pull up the address on your GPS or maps, we suggest checking our partner facilities' website (by Googling their name) or calling their number provided in your reservation.
What is your cancellation policy?
We appreciate you giving us a chance, and know this isn't how you're used to purchasing parking. That's why we offer free cancellations at any time — no questions asked.
What's in the Neighborhood?
Colorado State Capitol Building
Capitol Hill Mansion Bed & Breakfast Inn
Molly Brown House Museum
History Colorado Center
Governor's Residence at Boettcher Mansion
Need Help Making Your Reservation?
For any parking reservation questions you might have, please contact our parking reservation specialists at 424-532-8940 from 10 am to 7 pm EST or email hello@onairparking.com.
If you have any feedback, please let us know. We're here to make your travels easy and affordable, so keep in touch and let us know all about your experience with our 5-star parking services!
About Capitol Hill
Capitol Hill in Denver, Colorado was once one of the wealthiest and most affluent neighborhoods in all of Denver. Today, it is a bustling modern neighborhood dotted with government buildings, along with historical mansions from eras gone by.
This area of the city has many historical mansions to discover on a walking or driving tour. The Capitol Building itself was constructed in the 1880's and has become one of the most iconic buildings in the entire city with its gleaming gold dome and impressive architecture.
Capitol Hill is also known for its draw among artists. Several restaurants, coffee shops, and cafes dot this landscape so you'll never go hungry should you find yourself here. A definitive bohemian vibe can be felt on the streets of Capitol Hill. Nearby Colburn Hotel adds to the mystique, having housed such famed people as Allen Ginsberg and Jack Kerouac.
With its rich history and modern feel, you get the best of both worlds in Denver's Capitol Hill. Whether you come for the art or stay for the architecture, you'll be sure to have a wonderful time roaming the neighborhood. Book your parking today with On Air Parking and enjoy your time in Colorado's capital city.