Cheesman Park Denver Parking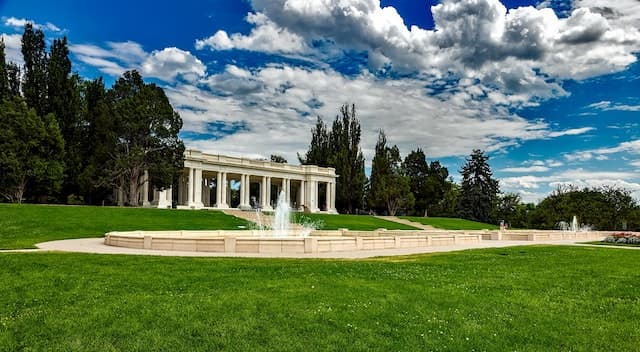 Looking for cheap and affordable parking in Cheesman Park, Denver? On Air Parking offers a parking deal you can only get from us, with our low rates beginning at merely $1.99/day*!
Our parking is guaranteed, and there are absolutely no questions asked should you need to cancel or request a refund. Cancellation is FREE, as always. Purchase your affordable parking today!
To learn more about our fantastic parking offer in Cheesman Park, keep reading!
*On Air Parking prices begin at the low price of $1.99 and is subject to change based on available inventory and holiday charges.
FAQ
What's the address of your parking lot?
You should receive an email within 10 minutes of your purchase with the parking facility's name and address at which you'll be parking. If it's hard to pull up the address on your GPS or maps, we suggest checking our partner facilities' website (by Googling their name) or calling their number provided in your reservation.
What is your cancellation policy?
We appreciate you giving us a chance, and know this isn't how you're used to purchasing parking. That's why we offer free cancellations at any time — no questions asked.
What's in the Neighborhood?
Denver Botanic Gardens
Boettcher Memorial Tropical Conservatory
Denver Art Museum
Freyer-Newman Center
16th Street Mall
Need Help Making Your Reservation?
For any parking reservation questions you might have, please contact our parking reservation specialists at 424-532-8940 from 10 am to 7 pm EST or email hello@onairparking.com.
If you have any feedback, please let us know. We're here to make your travels easy and affordable, so keep in touch and let us know all about your experience with our 5-star parking services!
About Cheesman Park
Did you know Cheesman Park in Denver, Colorado used to be a cemetery? The cemetery was moved in the 1890's, but a mishandling of the project meant that while most of the bodies were moved—some are still there. It is estimated that approximately 2,000 graves remain unmarked in Cheesman Park, having their headstones removed, but not the bodies. Due to this point of fact, urban legend has it that Cheesman Park is haunted with the ghosts of those whose bodies were never moved.
Cheesman Park has embraced their ghoulish folklore and provides a ghost tour for those who are brave enough to wander the park in the dark. Complete with period clothing and lighted lanterns, these ghostly guides will be sure to give you the time of your life!
Despite this dark history, Cheesman Park is quite a lovely place in the center of Denver, complete with fountains, flowers, and plenty of green grass. Today, it is popular with Denver natives for its walking trails, long stretches of grass, and lovely view of the Denver skyline.
Whatever you do, however, don't go digging here or there at Cheesman Park. You never know what, or who, you'll find. Book your parking today with On Air Parking and enjoy your time in Colorado's haunted park.