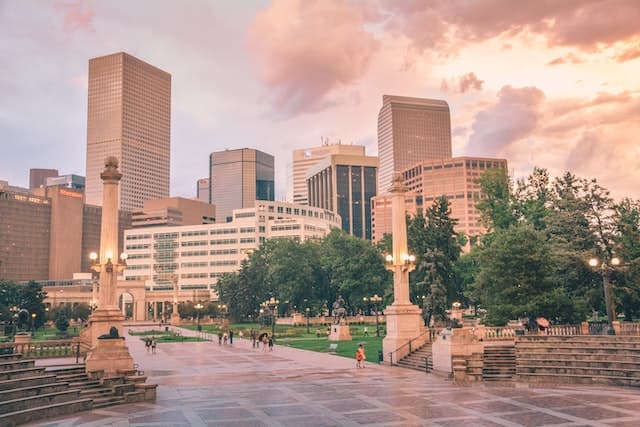 Looking for cheap and affordable parking in Downtown Denver? On Air Parking offers a parking deal you can only get from us, with our low rates beginning at merely $1.99/day*!
Our parking is guaranteed, and there are absolutely no questions asked should you need to cancel or request a refund. Cancellation is FREE, as always. Purchase your affordable parking today!
To learn more about our fantastic parking offer in Downtown, keep reading!
*On Air Parking prices begin at the low price of $1.99 and are subject to change based on available inventory and holiday charges.
FAQ
What's the address of your parking lot?
You should receive an email within 10 minutes of your purchase with the parking facility's name and address at which you'll be parking. If it's hard to pull up the address on your GPS or maps, we suggest checking our partner facilities' website (by Googling their name) or calling their number provided in your reservation.
What is your cancellation policy?
We appreciate you giving us a chance, and know this isn't how you're used to purchasing parking. That's why we offer free cancellations at any time — no questions asked.
What's in the Neighborhood?
16th Street
Elitch Gardens Theme & Water Park
Colorado Convention Center
Denver Art Museum
Union Station
Coors Field
Need Help Making Your Reservation?
For any parking reservation questions you might have, please contact our parking reservation specialist at 424-532-8940 from 10 am to 7 pm EST or email hello@onairparking.com.
If you have any feedback, please let us know. We're here to make your travels easy and affordable, so keep in touch and let us know all about your experience with our 5-star parking services!
About Downtown
Downtown Denver Colorado is the oldest part of the city of Denver. Denver itself was established in 1858 as a gold mining town. Once gold was discovered at the base of the Rockies, word spread like wildfire and prospectors came from miles around. A man named William H. Larimer laid out the plans for the city and named it "Denver" after politician James Denver, the governor of the territory of Kansas. He did so in order to gain favor politically, but James Denver had, sadly, already resigned giving him no favor whatsoever. The name of the city stuck, however.
Denver's early history is marked with Indian wars, flash flooding, and sparse food, but that hasn't stopped this town from thriving. Known as the Mile-High City, this metropolis nestled near the Rocky Mountains has come to be the most iconic city in the entire beautiful state of Colorado.
The history of Denver can be seen all over the city, with historical architecture nestled within more modern buildings and skyscrapers. The echoes of a bygone era can still be heard throughout the streets with various historic museums and, of course, the Denver, Colorado Capitol Building, which is adorned with a golden dome in honor of Denver's golden history.
Book your parking today with On Air Parking and enjoy your time in Downtown Denver, Colorado.