Parking at Downtown Los Angeles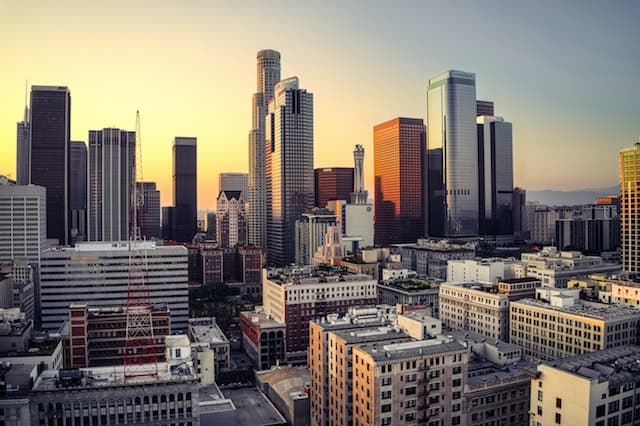 Parking in Downtown LA
Are you in the market for cheap parking in Downtown Los Angeles? We are offering an exclusive parking deal Downtown LA with parking rates starting at $4.99/day*!
This parking is within walking distance of the Walt Disney Concert Hall, Grand Central Market, and Union Station. Make your parking purchase now! Canceling parking is always FREE. Continue reading to learn more about our cheap parking deals in Los Angeles.
***Parking prices start at $4.99 per day for parking. Holiday parking and extra parking inventory charges may apply***
Parking FAQ
What's the parking address of your parking lot?
You should receive an e-mail within 10 minutes of your parking purchase with the address and name of the parking facility at which you'll be parking. If it's hard to pull up the parking address on your GPS or maps, we suggest checking out our partner parking facilities' website (by Googling their name), or by calling their number provided in your parking reservation.
What is your parking cancellation policy?
We appreciate you giving us a chance, and know this isn't how you're used to purchasing parking. That's why we offer free parking cancellations at any time — no questions asked.
How much does parking cost in Los Angeles?
On Air Parking's rates for LA parking is $4.99* per day.
Can you park on the street in LA?
It's not recommended. By booking with On Air Parking, you'll be able to park your car at a licensed parking facility.
Is parking free in Downtown LA?
No, parking is not free and can be very expensive. Book with On Air Parking and only pay $4.99* per day.
What's Nearby?
Want to know what locations are nearby this parking Los Angeles facility? Here's a shortlist of LA city establishments:
Staples CenterWalt Disney Concert Hall
Grand Central Market
Bradbury BuildingUnion StationMusic Center PlazaGrand ParkLast BookstoreLos Angeles Central Library
Grammy Museum
Need help reserving city parking in Downtown LA? We offer free parking cancelations!
Reserve daily or monthly parking now on your preferred parking check-in and check-out dates! Need help for daily or monthly parking? Call our parking reservation specialists at 424-532-8940 from 10 am to 7 pm EST. We offer FREE parking cancelations on all our parking deals and parking reservations.
Give us a shout! We'd love to hear how we can make parking in Downtown LA easier for you, and how we can get you parking around Los Angeles simpler and cheaper.
* Prices are subject to change based on available inventory and holiday charges.
About Downtown Los Angeles
Downtown Los Angeles used to be a place that would not make many parking tourist destination lists. However, today this is a different story and there are plenty of things Downtown Los Angeles has to offer, including the Metro Gold Line, the Metro Silver Line, the Metro Exo Line, and the Metro Green Line. Parking for your car can be hard to come by, however, you'll find your way if you have a map.
There aren't many places that we can think of that are a better place to catch a show than in Los Angeles city. The Ahmanson Theatre is a theatre in Downtown Los Angeles that is perfect for those who would like to catch parking and a Broadway show. The Ahmanson Theatre runs pre-Broadway shows and also the best of Broadway. Check their website for hours.
Grand Park is a 12-acre park is a great place to get away in Downtown Los Angeles. With plenty of places for parking and sit and an overall bright and uplifting atmosphere, Grand Park provides a sort of escape from the bustling city of Los Angeles. Grand Park is also a perfect place if you would like to have a picnic while spending time parking in the city.
Do you enjoy reading? The Last Bookstore is a fun and unique bookstore. The Last Bookstore offers a large variety of books and a very unique, labyrinth-like store layout, making it a very fun place to not only find a parking spot, but a book but to explore.
When looking for entertainment in Downtown Los Angeles, the Staples Center is a wonderful option. Visit the Staples Center to catch a Lakers, Clippers, or Kings game and expand your building Los Angeles experience. LA parking is just what you need.