Fort Lauderdale Airport Parking, Cheapest Price and A+ Service, FLL Parking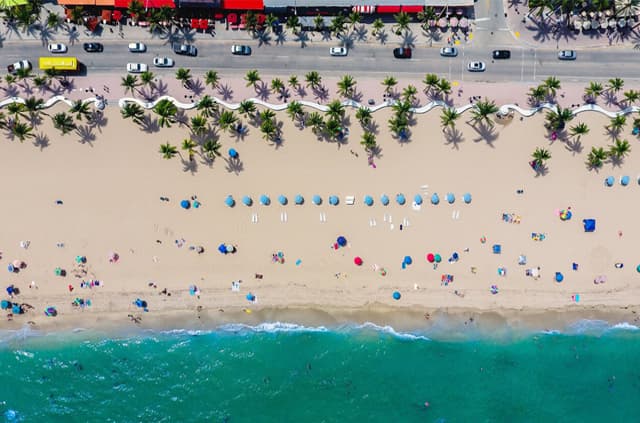 Are you searching to find cheap airport parking and places to park near FLL Fort Lauderdale Airport parking?
This is THE FLL airport parking deal you've been looking to find — On Air Parking has guaranteed FLL airport parking for the Fort Lauderdale Airport parking rates starting to park at $6/day*!
What's more, this FLL airport parking deal comes with FREE FLL airport parking cancellations and a FREE 24/7 FLL airport shuttle bus to get to and back from Fort Lauderdale Hollywood Airport FLL parking. Yes, FLL airport parking can be this cheap with our FLL airport parking deals!
*** FLL Airport Parking Prices start to park at $6. Holiday FLL airport parking and extra airport FLL parking inventory charges may apply to park at FLL Parking Lots***
Cheap Daily Airport FLL Parking for Fort Lauderdale Airport Parking
FLL Airport parking at the FLL airport has become tricky to park. It doesn't have to be but it is.
At Fort Lauderdale Airport hourly parking, FLL airport parking garages can quickly fill up and reach Fort Lauderdale airport parking capacity with nowhere to park. This leaves FLL airport Fort Lauderdale parking travelers looking for other places to park, sometimes to park at their car's risk.
Or instead they take public transportation in Fort Lauderdale, or book an Uber and Lyft so they don't have to worry about airport parking. Each of these Fort Lauderdale airport parking options has their own purpose and benefit. Check out our Fort Lauderdale airport parking guide below to see how much money each Fort Lauderdale airport parking option entails.
And by the way, it's no coincidence that our off airport FLL parking deal is the cheapest FLL airport parking among them all!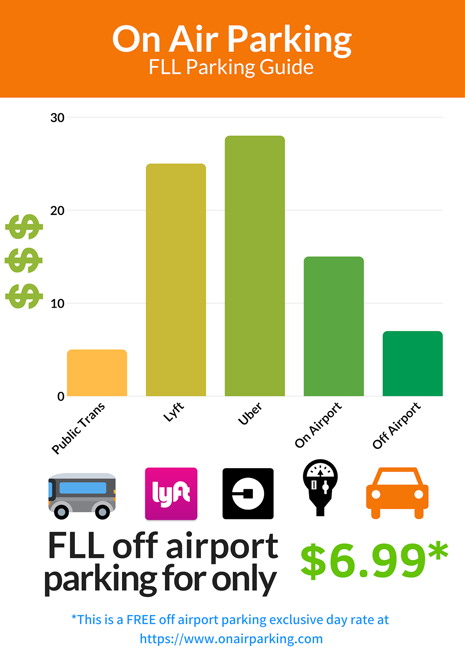 Airport Parking FAQ
What's the parking address of your parking garage or lot?
You should receive an e-mail within 10 minutes of your Fort Lauderdale parking purchase with the parking address and name of the parking facility at which you'll be parking. If it's hard to pull up the Fort Lauderdale parking address on your GPS or maps, we suggest checking out our parking partner facilities' website (by Googling their name), or by calling their number provided in your Fort Lauderdale parking reservation.
What is your parking cancellation policy?
We appreciate you giving us a chance, and know this isn't how you're used to purchasing parking. That's why we offer free parking cancellations at any time — no questions asked.
What's the cheapest parking at Fort Lauderdale Airport?
On Air Parking is the cheapest parking at FLL at $6 per day.
Can I prebook parking at the FLL Airport?
With On Air Parking, you can absolutely prebook your parking for FLL Airport!
Are curbside valet parking options available at the FLL Airport?
Yes! FLL offers curbside valet for $25 per day.