Cincinnati Airport Parking CVG, Best Rates, Free Shuttle and Free Cancellations at 5-Star Parking Facility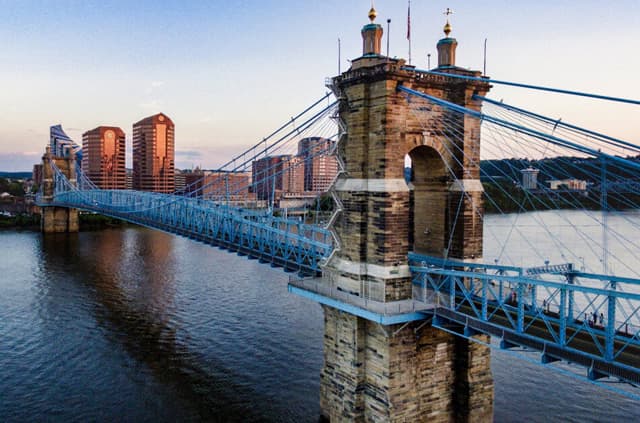 Are you searching for cheap airport parking options near the Cincinnati Airport terminal? We've got the best airport parking deal for CVG Airport parking starting at $3.99 per day*!
This Cincinnati airport parking deal comes with FREE cancellations and a FREE 24/7 shuttle service to get to the Cincinnati Airport. This daily Cincinnati airport parking rate is an exclusive airport parking deal here at On Air Parking. We guarantee the cheapest Cincinnati airport parking rates you'll find online.
Purchase airport parking now and experience new and affordable options to get airport parking!
****Parking prices start $3.99 per day. Holiday and extra airport parking inventory charges may apply****
Cheap Airport Terminal Parking for CVG Airport Parking Lots
The CVG Airport is the fastest-growing airport in the country but it offers limited parking options!
With news of the planned economy parking lot scrapped, information about our airport parking deal couldn't have come at a better time. We're confident once you try our airport parking reservation service you won't ever go back to the newly raised airport parking rates at the Cincinnati airport terminal parking lots.
FAQ
What's the address of your parking lot?
You should receive an e-mail within 10 minutes of your purchase with the address information and name and directions of the parking facility at which you'll be parking. If it's hard to pull up the address directions on your GPS or maps, we suggest checking out our partner facilities' website (by Googling their name), or by calling their number provided in your reservation for directions.
What is your cancellation policy?
We appreciate you giving us a chance, and know this isn't how you're used to purchasing parking options. That's why we offer free cancellations at any time — no questions asked.
How much is long term parking in CVG?
Economy Parking at CVG is $9 per day.
How does CVG ValuPark work?
CVG ValuPark is currently closed until further notice.
How much does it cost to park at the CVG terminal?
Parking at the CVG terminal garage is $12 per day.