Jacksonville Airport Parking - Great Price with

24/7 Free Shuttles, Free Cancellation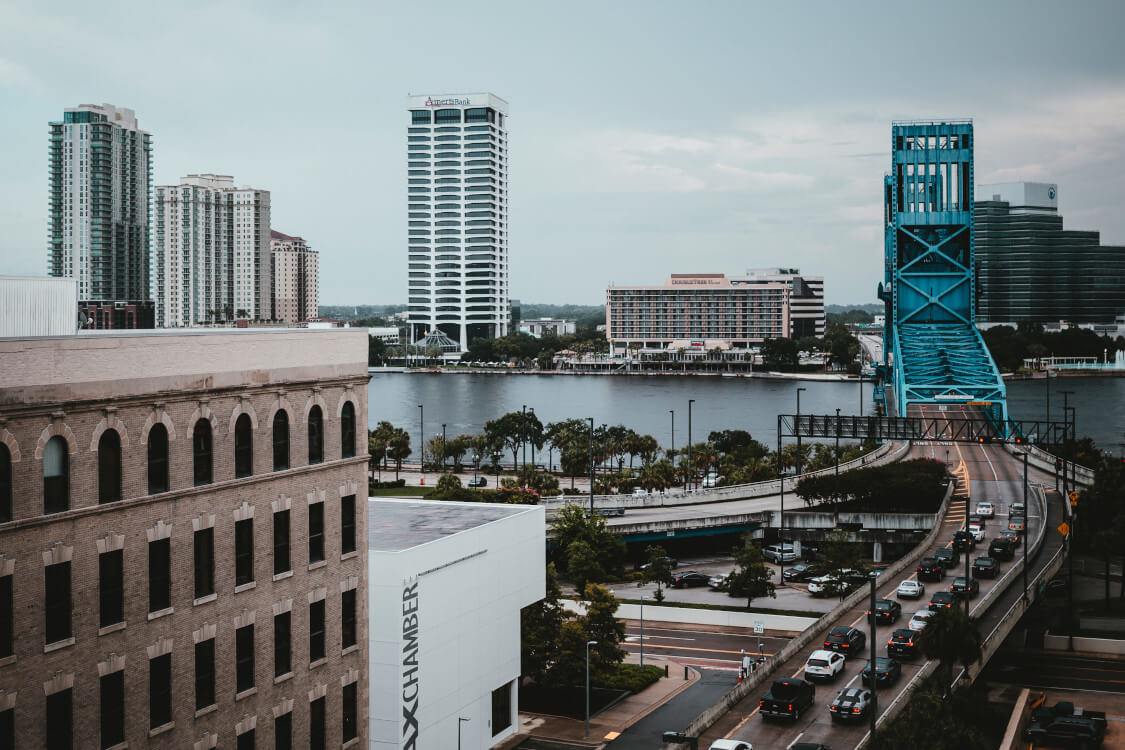 Are you searching for cheap airport parking for Jacksonville Airport?

On Air Parking has the cheapest parking rates anywhere for airport parking — as low as $3.90day* near JAX!

Purchase our airport parking deal now! All purchases come with FREE shuttle services and FREE cancellations.
Coupon Code for $2 Off - JAXOnAir
***Prices start at $3.90. Holiday and extra inventory charges may apply***



Jacksonville Airport Parking
Do you hate spending on airport parking?

We dare say everyone hates spending on airport parking. That's why everyone is looking for cheap airport parking, or a way to avoid spending for parking altogether, whether at JAX or any other airport in the country.

You have several options to get to Jacksonville Airport. For example, you might book an Uber so you don't have to worry about parking your car. You might also take a Lyft, since they have a partnership with JAX airport authorities to operate at Jacksonville Airport.

These are ways to avoid paying for airport parking, but not everyone has a big budget for that. Many more are still looking for a practical solution to airport parking. You might be looking yourself, that's why you're here looking for cheap Jacksonville Airport parking.

If you want to stop paying so much for airport parking, read on.

We offer you affordable airport parking near Jacksonville Airport starting at $3.90/day* — this is an On Air Parking exclusive! We negotiated hard with these airport parking providers for you. Now you don't have to waste time looking for parking at the airport economy lots in JAX.

If you're wondering how much money you're losing by taking an Uber or Lyft every single time you have to go to Jacksonville Airport, take a look at our slides below which compare public transportation, ride sharing services, on airport parking, and other off airport parking rates.


FAQ
What's the address of your parking lot?
You should receive an e-mail within 10 minutes of your purchase with the address and name of the parking facility at which you'll be parking. If it's hard to pull up the address on your GPS or maps, we suggest checking out our partner facilities' website (by Googling their name), or by calling their number provided in your reservation.
What is your cancellation policy?
We appreciate you giving us a chance, and know this isn't how you're used to purchasing parking. That's why we offer free cancellations at any time — no questions asked.
Public Transportation
When you're feeling lazy to drive to the airport, there's always public transportation.

Jacksonville Airport is served by the Air JTA/Powers Route. These buses can get you to downtown Jacksonville and the Skyway rail system. Tickets cost $1.50 with free transfers.

If you have a lot of luggage and prefer to be picked up at home, there's the Jacksonville SuperShuttle. The fee is $20 one way. Riding Air JTA to get to Jacksonville Airport may look like the cheapest option, but it's cheap without the convenience.


Ride Sharing
So what option is costly but convenient to get to JAX? That would have to be ride sharing services. Ride sharing to get to Jacksonville Airport has been a lifesaver for many. Unlike with public transportation, they don't have to fight for space or worry about the transfers from the train to the bus or vice versa. You just book a ride, hop in, and be on your way.

The convenience comes at a steep price, of course. Sometimes a little too steep.

To explain this better, we picked a random spot on the map to show you the value of our airport parking deal. From City Station Drive, which is 3 miles away from Jacksonville Airport, an Uber will cost around $9 to $33 each way. Meanwhile, a Lyft from the same pick up point will cost $6 to $8 each way. On both instances, you could have purchased off airport parking near Jacksonville Airport for an entire day with those rates.

That's why our customers love our airport parking deals!

We give them the cheapest parking rates at licensed parking facilities, while getting them to the airport, easy.


On Airport Parking at Jacksonville Airport
Now how about parking at JAX?

If you want to park at Jacksonville Airport, you have three parking lots to choose from:
The economy lots at Jacksonville Airport charge $5/day. The economy lots are the cheapest option for long term stays at the airport.
Meanwhile, the daily surface lot at Jacksonville Airport charges $9/day.
Finally, the daily garage at Jacksonville Airport costs $15/day. This parking lot is recommended for day-long stays at the airport premises.


Off Airport Parking near Jacksonville Airport
Have you given up on the expensive parking rates at Jacksonville Airport? If so, that may have caused you to look for parking elsewhere, at the nearby parking facilities. We offer the best choice for off airport parking near Jacksonville Airport.

Starting at $3.90/day*, you can reserve sure parking for your car. We offer FREE cancellations and FREE shuttle services as a complementary service.

A couple of dollars may not seem much, but if you add them all up, you're looking at hundreds of dollars saved, and just by being smart with your parking choices.


On Air Parking: How Off Airport Parking Works
Now you may be wondering how our off airport parking deals work.

It's actually pretty simple.

Just purchase airport parking for Jacksonville Airport on your preferred dates and you'll immediately receive an email from us here at On Air Parking. The email contains the details of your airport parking reservation, including the exact location of the licensed parking facility.

Simple, right? If you don't get an email from us, don't panic! We have a traveler care team who will gladly assist you with your parking reservation.

Now as for the price, we guarantee we offer the cheapest airport parking anywhere for Jacksonville Airport. The reason why we're able to do this is because we've gotten these licensed parking facilities to see YOUR side of the problem — that airport parking has gotten very expensive.

We talked to them and managed to get them to see that everyone is looking for cheap airport parking and that they would miss out on business if they kept their parking rates.

The hard work paid off! We're excited to offer you that fruit of our hard work — a great parking deal starting at $3.90/day* near JAX.


Corporate/Business Travel Off Airport Parking Lots near Jacksonville Airport
Who doesn't love a good deal? Business travelers love them too, even if their transportation expenses are paid for by their employers. This is why we put a premium on convenience.

If you're traveling for business, know that our off airport parking deals come with FREE cancellations and FREE shuttle services.

Our years in the business tell us that business travelers are more mindful of convenience than cost, which we took into consideration when looking for Jacksonville Airport parking. It's why our cheap Jacksonville Airport parking deal is only within 1 mile and 5 minutes of JAX Airport.

We picked this parking facility so you don't have to worry about missing your flight.


Personal Travel Off Airport Parking Lots near Jacksonville Airport
Are you on personal travel? The stress of finding Jacksonville Airport parking spaces spares no one. It can ruin an otherwise perfect day! That's why we worked on a solution that saves you from the hassles of parking at the airport.

We encourage you to take advantage of our Jacksonville Airport parking offering — it's a low cost, low commitment Jacksonville Airport parking deal that will surely get your personal trip or vacation started on a high note.


Need help reserving airport parking near Jacksonville Airport?
Purchase a parking reservation for Jacksonville Airport now to lock in your preferred check-in and check-out dates!

If you wish to cancel your parking reservation in Jacksonville, just call our customer care team at 904-204-2620 from 9am to 7pm ET. We offer FREE cancellations on all our airport parking deals.

Send us some love! We'd love to hear how we can make parking near Jacksonville Airport easier for you, and how we can get you to Jacksonville Airport simpler and cheaper.