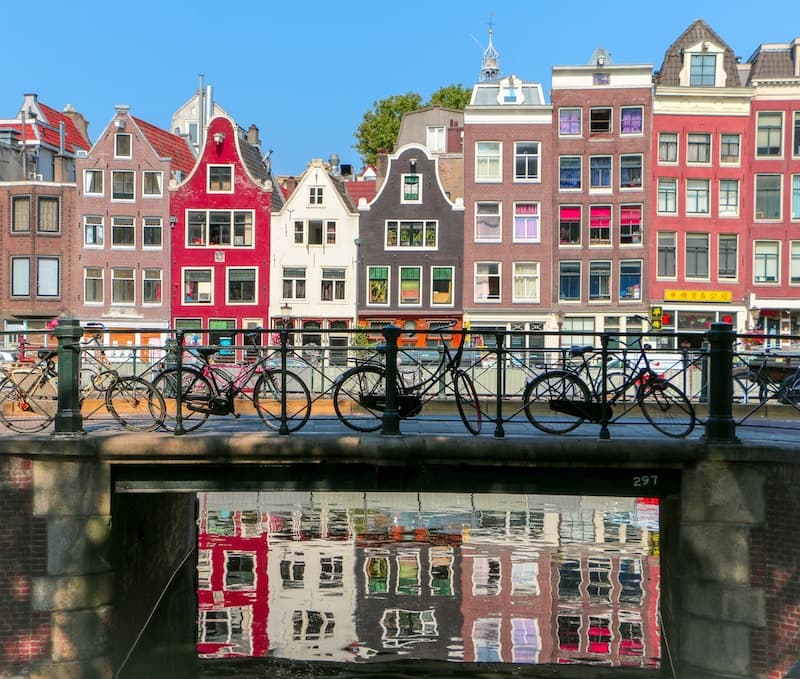 Everything is all set and you're on your way to a once-in-a-lifetime trip to Amsterdam. Your bags are packed, flights are booked, but now you have to work out all the smaller details, such as where to stay and what to do when you get there. Don't fret, we've done the work for you. Read on for accommodation recommendations, activities you must do, and sights you have to see.
Where to Stay
One of the most important parts of a trip is making sure you have a safe, clean place to store your things and come back to after a long day of activities. Amsterdam has a variety of accommodations available and there's something to fit every style.
The first thing to decide is what part of the city to stay in. If you want to be near the center of the action-packed city, consider booking a stay in Jordaan. Jordaan is in close proximity to several attractions and is home to galleries, boutiques, and highly rated restaurants.
Hotel Mercier
Hotel Mercier is a boutique hotel in an ideal location. At this hotel, glamor meets a timeless style. Hotel Mercier features air-conditioned rooms, a garden, free WiFi, and a restaurant.
Guest rooms at the hotel are equipped with a flat-screen TV. Each room also includes a private bathroom. If you're lucky, you might score a room that overlooks the city. Enjoy a buffet breakfast before heading out for the day.
Bonboon, the on site restaurant, boasts a unique vegan dining experience. Choose from a four or five course meal to end your day exploring the city.
With prices starting at $250 per night, this hotel is an amazing deal fit for almost any budget.
Another great choice of neighborhood to stay in is Grachtengordel. This area is within walking distance of the city.
Banks Mansion
If you're looking for a slightly more upscale experience, Banks Mansion is a great choice. This hotel is set along the edge of the famous Herengracht canal. Art Deco design and original features can be found throughout. The hotel boasts beautifully decorated, elegant rooms. Guests are also treated with an all-inclusive experience, truly making it feel like home.
Flat-screen satellite TVs are standard in the air-conditioned rooms at Banks Mansion. Guests will also be pleased to know that each room includes a free private mini-bar with a luxurious selection of whiskey, cognac, and gin.
Each of the bathrooms includes a relaxing rain shower, the perfect way to unwind after a day out and about.
Begin each day with an international live-cooking breakfast to include eggs, breads, and pancakes. In The Living lounge, guests can relax in the oversized armchairs. Free drinks, tea, coffee, and snacks are available throughout the day, including afternoon cheese platters.
Prices start at $250 per night, which is a steal considering all that is included. Be sure to book your stay early to get the best deal.
If you're visiting Amsterdam with a group of friends, fun can be found in Binnenstad. While this is not a great area to visit for families, this a great option for a fun night on the town with pals. Binnenstad encompasses the historic center of Amsterdam and the Red Light District.
Park Plaza Victoria Amsterdam
Park Plaza Victoria Amsterdam is conveniently located right across from Amsterdam Central Station. Located in a historical building, there is a lot to see in this hotel. From large windows providing natural sunlight, to rooms that are decorated in warm colors, guests will find this to be a wonderful place to relax.
Whether you plan to explore by day or night, there's something here for everyone. Guests can enjoy a breakfast buffet, homemade pastries, and freshly brewed coffee each morning before heading out for the day. Need to come back and take a rest in the middle of the day? No problem! The restaurant offers all-day dining service. Take advantage of some of the local beers and appetizers before you head out for the night.
If exploring the city wasn't enough exercise for you, the hotel features a spa and fitness center on site, equipped with a sauna and a large indoor swimming pool.
If you book far enough in advance, you can take advantage of rates starting at as low as $180 per night.
Hostels
If you're looking for something a little less expensive than a traditional hotel, you might also consider staying in a hostel. A hostel is generally a less expensive option, especially for those young backpackers and anyone looking to party—and not much else. If you're traveling solo or with a friend, a hostel could be a great option. Booking a hostel can be a hit or miss situation. You'll want to do some research and ensure you've selected a clean and safe location. We've picked out a few that seem to make the cut amongst most travelers.
ClinkNOORD
One of the most popular hostels in Amsterdam, ClinkNOORD prides itself on a welcoming atmosphere. There's plenty of opportunity to socialize with other travelers in the common areas. Make some new friends! While it's not located in the city, it's still close to everything you'll want to do and see. There is a free ferry that operates 24/7 and will take you across the river to Amsterdam. You won't find a free breakfast here, but there is a kitchen where you can prepare meals for yourself. There is also a bar and a small restaurant on the premises.
FLYING PIG DOWNTOWN
Flying Pig Downtown is one of the most well-known hostels in Europe as well as one of the top-rated in Amsterdam. If you're looking for more of a party vibe, this hostel features an in-house bar and smoke room.
Free breakfast is provided as well as a self-catering kitchen. As with most hostels, there are common rooms with plenty of places to socialize. You'll find its location in the center of Amsterdam extremely convenient. Be sure to check the pricing before you book. Prices have a tendency to be a bit higher on the weekends.
St. Christopher's at The Winston
St. Christopher's at the Winston is part of a high quality chain and in another great location in the heart of the city. It's near lots of coffee shops and bars so you don't have to worry about traveling too far to find a good time.
The hostel itself features a bar, a beer garden, and a smoking area. This is a great place to meet new people and also has more of a party vibe. If you're looking for somewhere to hang out until the wee hours of the morning, this could be just the spot for you.
A few things to keep in mind—they don't offer free breakfast and they charge you to store your luggage when you're not staying there.
Tasty Treats
Whether you're looking for fine dining or something casual on the go, there's no shortage of delicious places to eat in Amsterdam.
FEBO
For a throwback experience, FEBO brings back the automat. FEBO is a late night snacker's dream. With foods made fresh daily, FEBO has an assortment of tasty snacks. Vending machines offer anything from hamburgers to fries and lots in between. Not only does the food come highly recommended, but the experience is also fun.
The Bolenius Restaurant
For more upscale dining, you'll find The Bolenius Restaurant nestled in Amsterdam's Financial District. This Michelin star restaurant is most well known for its variety of freshly grown vegetables. They have their own garden located right next to the restaurant! You can also enjoy a high quality selection of sustainable fish and meat. Book an intimate private dining experience or book a table in the dining room—the choice is yours. Whether you're vegetarian, vegan, or a meat eater, everyone is sure to leave this restaurant with a satisfied belly.
La Perla Pizzeria
If a casual slice of pizza is what you're in the mood for, La Perla Pizzeria is one of the best. Choose from a wide variety of fresh toppings that take this pizza to the next level. This spot exudes cozy neighborhood energy.
Van Dobben
For traditional Dutch cuisine, consider Van Dobben.This casual diner-style eatery offers up Dutch delicacies such as meatball soup and croquettes. If you're looking to immerse yourself in Dutch culture, this place is frequently crowded and is one of the best places in the city.
Things to Do
Amsterdam is a bustling city with no shortage of things to do and see. Let's take a look at some of the top-rated places to check out while you're there.
Anne Frank House
Most people know the story of Anne Frank and how her family hid from the Nazis during World War II. If you want to dive deeper into history, consider visiting the Anne Frank House. The hiding-place-turned-museum is a fully immersive experience that tells the story of Anne, her family, and their experiences while in hiding through photographs, personal items, and videos. The building at Prinsengracht 263 consisted of two parts: the main building and the annex. The building was opened as a museum in 1960, though the annex was empty at that time.
As you tour the museum, take advantage of the free audio tour. The audio tour provides visitors with background information on World War II, the people who were in hiding, and the people who helped them. For your convenience, the audio tour is available in several different languages. Choose from Dutch, English, French, German, Hebrew, Italian, Japanese, Portuguese, and Spanish.
While the recommended minimum age for the tour is ten years old, parents are encouraged to use their discretion when considering bringing children. Be sure to check for the latest ticket prices before your visit.
Royal Palace
Tour the Amsterdam Royal Palace and learn some of the rich history of the area. The palace is open to visitors when no royal receptions are taking place. You can take advantage of a free audio tour to walk you through your visit.
Built in the seventeenth century, the palace was originally used as Amsterdam's town hall. In 1808 it was used as a palace by King Louis Napoleon and has remained a palace ever since. Walk the halls and view the sculptures and paintings by famous artists that are on display.
In the heart of the palace, you'll find the Citizens' Hall. The Citizens' Hall boasts breathtaking marble galleries as a perfect example of the grand design of the seventeenth century.
Red Light District
If you're feeling very adventurous, don't miss the famed Red Light District. Most people don't realize this, but there are three different Red Light Districts located in Amsterdam. The most well known and well kept is the one in the center of the city. Amsterdam's Red Light District has a unique combination of things to see and do. You'll find that anything goes here, from prostitution, to erotic shops, to museums and churches.
You'll find most of the action takes place from around 11pm until around 2–3am. Red neon lights illuminate the canals and large crowds tend to pack the area. Everything you need is within walking distance. Spend the night hopping from bar to bar, check out some unique restaurants, or grab souvenirs at one of the many shops.
If you'd like to do something a little less bold, there are other activities in this area. Madame Tussaud's wax figure museum is always an interesting choice, as well as the Rembrandt House and the Amsterdam Museum.
Other top attractions in Amsterdam include:
Shopping
You certainly can't take a trip to Amsterdam without doing some shopping. Let's take a look at some of the best places to shop around the city.
The Museum District
The museum district is home to some of the most recognizable luxury brands. You'll find designer stores such as Louis Vuitton, Chanel, Ralph Lauren, and DKNY along the P.C. Hooftstraat, which is considered Amsterdam's most exclusive shopping street. A little further down the way, you'll find some stores featuring Dutch designers.
De Bijenkorf
If you're looking for a department store, De Bijenkorf is one of the best. Nearby you'll find De Kalverpassage shopping center which is home to forty-five shops. Here you'll find the likes of H&M, Esprit, Urban Outfitters, and more.
Spiegelkwartier
If antiques and art are more your speed, Spiegelkwartier is the place to visit. This area is home to more than seventy art galleries and antique shops. From ceramics to glass, and from furniture to paintings, there's something here to fit any style.
Batavia Stad Amsterdam
If you're the type always looking for a bargain, Amsterdam has something for you, too. If you don't mind a quick day trip, Batavia Stad Amsterdam is located in the nearby city of Lelystad. Here you'll find more than 250 fashion brands with plenty of cafes and restaurants scattered
throughout. You can find big name brands at a deep discount, as most items will be 30–70% off retail price. Designers include Nike, Tommy Hilfiger, Calvin Klein Jeans, Guess, and many others. To save even more money, if you are a visitor from outside the EU, you'll shop tax-free. A shuttle bus will take you from Amsterdam city center to Batavia Stad, making things even more convenient.
Transportation
One question you might ask is how to get around Amsterdam. The most common method of transport is walking. If you have plenty of time, strolling through the streets allows you to see more of the city and truly explore. If you don't want to walk, however, there are other options.
If you need to get somewhere fairly quickly, there are taxi services and Uber is available. You can also opt to use the metro system. Buses, trams, ferries, and water taxis are available as well, and can take you where you need to go. If you're looking to get in some extra exercise, biking is extremely popular. Rent a bicycle and take a ride around the city. There are plenty of bike racks all around.
Pack Your Bags
All in all, anyone who visits Amsterdam agrees that it is a very unique city and one that is well worth visiting. Rich in history, it is the experience of a lifetime. With world-class restaurants, seemingly endless shopping, a plethora of museums, art galleries, and historical buildings dating back centuries, there's something for everyone. There are even plenty of opportunities for short day trips outside the city. No matter how long you'll be there, a few days or a couple of weeks, every minute of your trip will definitely be action-packed. Whether you're traveling solo, in a group, or as a family, you're sure to find activities in Amsterdam that will create memories to last a lifetime.