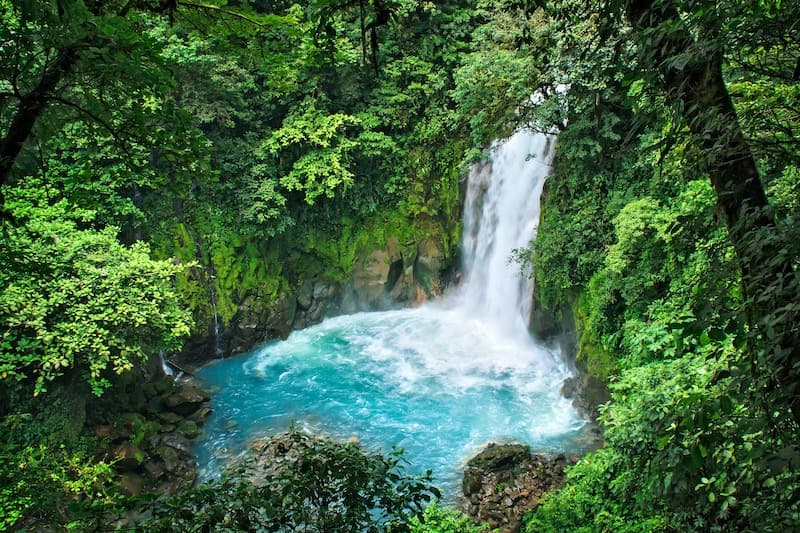 Photo by sterlinglanier Lanier on Unsplash
Are you looking to take the trip of a lifetime? Well, look no further! If you're in search of a tropical paradise where you can become one with nature, Costa Rica is the place for you. Located in Central America, Costa Rica is one of the most popular places to visit in the world. The small but mighty country features lush vegetation, jungles, beaches, and a wide variety of other terrain just waiting for you to explore. Let's take a look at some of the great things to do and see during your visit to Costa Rica.
Where to Stay
With Costa Rica being a year-round travel destination, there are hundreds of options for accommodations to choose from. Keep in mind, the high season is December-March so you'll want to plan your trip at least six months in advance to ensure the place you'd like to stay will be available during your trip. If you're planning on traveling during the off season, you'll want to plan your trip about two months in advance.
Romance
If you're planning a romantic trip, try Hotel Casa Buenavista. This hotel is adults only, ensuring a peaceful getaway for you and your partner. This hotel is located in Carillo and is just seconds away from the beach. If the beach isn't your style, the property also has two swimming pools available for guests to use. Want a romantic meal in the evening? Highly rated restaurants are just a few minutes' walk away. After a long day of exploring, couples can slip into something comfortable and enjoy a glass of wine on the private terrace overlooking a garden. Each room features air conditioning and Wi-Fi.
For those travelers who are more interested in a modern camping experience, Chira Glamping Monteverde is a great option. Each unit comes equipped with a private bathroom and a free mini-bar, stocked with items you'll need for breakfast. Guests have access to an outdoor kitchen and some units also offer dining areas and a private balcony. Don't worry, you won't have to be cut off from civilization with this camping experience; there is free Wi-Fi available throughout the property. You're able to post all of the Instagram photos you want.
Luxury Accommodations
Living like a celebrity takes on a whole new meaning at El Silencio Lodge & Spa. If you like to be pampered, this is the place for you. Embrace wellness and peace with one (or several) of the options offered. Choose from massage therapy, full body wraps, nail services and facials. Don't want to leave your room? That's ok; in-room spa treatments are also available.
Whether you're traveling as a couple, with friends or as a family, there's a room that will meet your needs. Choose from spacious suites and private villas. Each standalone accommodation perfectly combines the beauty of nature with elegance. Areas are private and each suite or villa boasts a spectacular view of the Costa Rican landscape.
Some of the best culinary experiences in Costa Rica can be had at El Silencio Lodge & Spa. The main restaurant, Las Ventanas Restaurant, offers fresh farm to table options that are sure to delight the taste buds. In a dining room framed by the forest, enjoy traditional Costa Rican dishes for breakfast and lunch. You can relax by the fireside in the evening and enjoy your meal at a candlelit table.
The Toro Bohemio Bar is a bit more relaxed and features an extensive wine list, signature cocktails and craft beer. For a private dining experience, you can enjoy a meal at Rancho Orquideas. Overlooking the Gorrión River, this private covered deck is the perfect place to unwind. This magical setting is complemented by the gentle sounds of the nearby river.
Family-friendly
Traveling with your family is a great way to make memories in a new place. One of the best things about traveling to Costa Rica with family is it's convenient! If you have younger children, you can rest in the fact that flights from major airports like Miami or Houston are only three hours long. You won't have to worry about spending an extended period on an airplane working overtime to keep the kids entertained.
Once you land in Costa Rica, there are lots of family-friendly accommodations to choose from. The Springs Resort & Spa is situated on 165 acres overlooking the Arenal Valley. You have an excellent view of the Arenal Volcano safely outside of the danger zone.
All of the guest rooms, suites and villas feature private balconies and luxurious comforts such as hammocks, rocking chairs, and jacuzzi tubs. Wi-Fi is available throughout the property and your room will also come with a fully stocked mini-bar.
The Club Rio Adventure Center offers a wide variety of activities perfect for the kids and adults. Available activities include putt-putt golf, river tubing, kayaking, horseback riding, and rock climbing. There is a kid's game room on the property and a fantastic water slide in the pool area. Having all of these activities conveniently located in one area will cut down on your travel time and means you'll spend less time running around and more time actually doing things with your family.
If you're an animal-loving family, the Animal Sanctuary is a must-see. Tours allow guests to view a variety of Costa Rican wildlife in natural habitats and depart from the hotel lobby on the hour from 9am until 4pm.
Delicious Dining
No trip is complete without experiencing cuisine native to the area. Costa Rica is no exception when it comes to good eats. Normally one wouldn't expect to find fabulous Italian food in Costa Rica, but Mama Gui proves to be an unexpected surprise. With handmade lamb sausage and homemade pasta, you can't go wrong when making your selection. This delightful dining experience is just a ten-minute walk from Samara Beach.
If traditional Costa Rican food is what you're looking for, the Restaurante Nuestra Tierra is the perfect choice. Located in San Jose, this restaurant has been serving customers for more than twenty years. Tickle your taste buds with Costa Rican ceviche, a dish typically made with fresh raw fish cured in citrus juices. You'll find everything on the menu from fajitas to beef, seafood, and chicken dishes. For the truly adventurous diner, they even offer several octopus dishes.
For a fine dining experience that will knock your socks off, you'll love Silvestre. Also located in San Jose, this is one restaurant you do not want to miss. The restaurant is located in an art filled, 1860s house with a 1930s vibe. With friendly, knowledgeable staff and food made from fresh, local ingredients, this will make for an experience to remember.
We all know that you can usually find the best food off the beaten path. If you're looking for some truly great food, don't pass up a food truck or a small hole-in-the-wall, family-owned restaurant. The Shrimp Hole is just that. You'll find this hidden gem one street up from Tamarindo Beach. This small shack packs a big punch when it comes to Costa Rican food. Serving up locally sourced shrimp and other seafood dishes, it's some of the best food around. Wash it all down with one of their many flavors of fresh lemonade.
The Tamarindo Street Food Fiesta is a food-lover's paradise. Some of Tamarindo's best local eateries gather in one location on the first Saturday of every month. Mingle with the locals and enjoy some live music as you taste your way through the day. Bring a big appetite; with all dishes costing $6 or less, you'll want to try a little bit of everything.
Lastly, don't miss an opportunity to experience food at a street market or at one of the many sodas (small, mom and pop open air eateries serving traditional Costa Rican cuisine) located all around.
Awesome Activities
A visit to Costa Rica will offer opportunities that any and everyone can enjoy.
For the Nature-Lover. Costa Rica is home to over 900 species of birds, making bird watching a prime activity. Book a tour with an experienced nature guide to catch a glimpse of a variety of winged wonders. Costa Rica's diverse bird population is thanks to the variety of unique habitats throughout the country. Beaches, swamps, rain forests, rivers, and more create homes for some of the most amazing birds on the planet.
For the Thrill-Seeker. Costa Rica is full of opportunities for adventurers to stretch their limits. Home to volcanoes, rainforests, cloud forests, breathtaking waterfalls, and roaring rivers, an exciting excursion waits around every corner.
Are you seeking an aquatic adventure you'll remember for years to come? Try riding the currents whitewater rafting down the river or glide along the waves in a kayak. Relax on a canoe trip around the lake or through the wetlands. Experience underwater beauty with a snorkeling excursion.
If you'd rather stay dry, there are amazing hiking trails scattered throughout the country. There are a variety of land based activities that will allow you to see the beauty of Costa Rica while getting your body moving. Get your adrenaline pumping with a rock climb or rappelling adventure or take a bike ride through the miles of trails. You can choose to do mountain biking or bike through the valleys. With approximately eighty paths to choose from, there's a route for every skill level.
Would you like to experience Costa Rica from an aerial vantage point? Try a zip-lining adventure or climb to the top of a waterfall. Appreciate the lush vegetation from one of the many suspension bridges as you traipse through the treetops.
For the Leisure-Seeker. Of course, a vacation should also be about resting. If you'd like to simply relax and leisurely go about your day, you can certainly find ways to do that as well. Golfing is a popular pastime. Choose from several different golf courses in different parts of the country. The Guanacaste area will offer you spectacular ocean views as you make your way through the course. The Mid Pacific area is home to some of the most beautiful tropical greenery. The San Jose area will provide you with fantastic mountain views. Whatever your preference, there is a course for you.
Fishing is another wonderful way to relax. Charter a boat and go deep-sea fishing or try your luck at one of the rivers or lakes. Any of these areas are a great opportunity for a picture-worthy catch of the day.
Don't forget about the beaches! You can't take a trip to a tropical paradise without experiencing one of the many beaches. With an estimated 600 beaches to choose from, Costa Rica has no shortage of places for fun in the sun. The Central and Mid Pacific areas offer settings perfect for sunbathing or swimming. In the South Pacific, you'll experience beaches perfect for snorkeling or surfing. Whether you want to simply lay out in the sun and enjoy watching the waves crash, or try an activity, there's sure to be something that will please everyone.
Culture
Immerse yourself in Costa Rican culture and truly get to know the area. The National Museum of Costa Rica is a great place to start learning Costa Rican history. The oldest museum in the country, this museum houses important archaeological artifacts recounting the history of Costa Rica from the time of conquest up until the present.
Historical Walks. You can increase your knowledge of Costa Rica with a self-guided walking historical tour. Take a historical walk through the areas of Heredia, Alajuela, Puntarenas, Liberia, or Limón. Each of these areas has a unique and enriching history waiting to be discovered. This activity is sure to please any curious adult or child.
Discover Nicoya's Blue Zone
What in the world is a Blue Zone? In short, a Blue Zone is an area where the population frequently reaches 90 to 100 years of age. There are five Blue Zones in the world and the Nicoya Peninsula is home to one of them. Some of the common factors that exist among this population are deep faith, constant mobility and excellent physical and mental health. The residents in this area pride themselves on a healthy, traditional diet and special attention and connection to family. Older generations pass down knowledge and engage in physical activity with their grandchildren, teaching them the spiritual way of life. The hope is that the example set by those in the Blue Zone will spread throughout the country and eventually the habits necessary for healthy longevity will spread to the rest of the world.
Travel Tips
The key to a successful trip to Costa Rica is making sure you are well prepared. Some of the most popular tips for visiting the country include:
● Proper attire. Be sure to check the weather and pack in a way that you are prepared for anything. Proper shoes for hiking, climbing and other outdoor activities are a must.
● Travel tours. Be sure that any travel tour you are booking is with an authorized travel agency. Make sure this agency has the proper health and safety permits, operating permits and insurance policies, as well as certified tour guides.
● Learn the language. While you'll find many locals who speak English, It's always a good idea to at least be familiar with the language when you're visiting another country. An understanding of the local language will gain you points and show that you have respect for the local culture.
● Budget accordingly. The local currency is colónes, not dollars. Be sure to know where you can exchange currency and try to use that when possible. Take note of which activities and locations charge an entry fee and be prepared. Also be aware that a ten percent service charge and thirteen percent tax is added to most restaurant bills.
● Stay safe. This goes for any destination, but make sure you keep a close eye on your belongings and always be aware of your surroundings. Try not to venture out solo at night. If you do, keep to well-lit, safe areas. Locals will be happy to guide you.
● Have fun. The biggest tip of all is to have fun. With so many things to experience, you're guaranteed to make memories that will last a lifetime.
Required Travel Documentation
Keep in mind you will need certain documents when entering Costa Rica. To enter the country you will need to make sure you have proof of your return plan. Acceptable documentation can include a return flight ticket, bus exit ticket or a cruise ship passage ticket to show the immigration officer upon arrival. These tickets must be dated before your travel visa or entry stamp expires. You'll also need to show a valid passport.