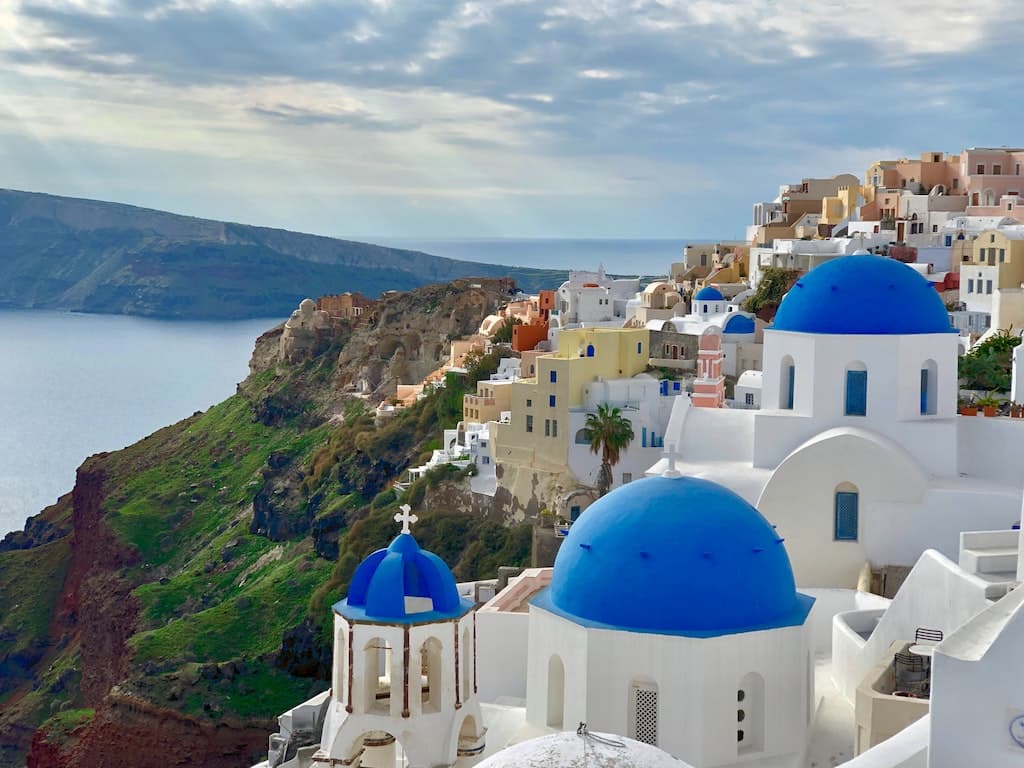 Photo by Yang Yang on Unsplash
Are you looking to visit one of the most beautiful places in the world with an incredible history? We have just the place for you. Come and learn why magnificent Greece is where you and your family should book your next vacation.
The country of Greece is unique in many different ways. For starters, Greece is home to some of the most beautiful views and architecture in the world. This majestic architecture is thanks to the rich and ancient history of Greece, with buildings and structures dating back to the sixth century BC. Greece was the birthplace of the globally celebrated Olympic Games and of democracy as well. The population of Greece is over ten million people. Let's have a look at why Greece should make your vacation list.
Best Places to Stay
One of the most important parts about booking any trip is finding where you will be staying during your time there. Lucky for you, Greece offers plenty of options. If you want somewhere cheap such as a small hotel, looking for somewhere more luxurious where you can appreciate beautiful and historic architecture, or looking for a house to rent out for total privacy, Greece will accommodate. If you are outdoorsy and prefer to spend your nights under the stars, Greece also provides plenty of different camping site options for you as well.
Bed and Breakfasts
One way to save money while also experiencing the culture of Greece is staying at one of Greece's bed and breakfasts. These lovely little places to stay each offer a certain charm about them, with most of them being family owned. Staying at a bed and breakfast in Greece will ensure a warm and friendly atmosphere.
A wonderful option is Zorbas Beach Village. Zorbas Beach Village is a very nice bed and breakfast that offers ocean views and a full-size pool. Zorbas Beach Village also offers free wifi and around fifty-three different apartments to choose from. Zorbas Beach Village offers an inviting and comfortable atmosphere as well as a delicious breakfast and food options that keep things traditional.
Another great option is Summer Lodge. Summer Lodge is a bed and breakfast located in Platanias, Greece and is set in a convenient location. Summer Lodge is family run, promising a friendly and warm atmosphere. Summer Lodge is styled in traditional Greek architecture and is a great place to enjoy some fun in the sun with beaches and water activities nearby. The breakfast is delicious in traditional Greek fashion and there is even a private pool for those looking to go for a swim without having to leave the Summer Lodge grounds.
Last but certainly not least, La Maison Vert Amande is another great choice when searching for a bed and breakfast in Greece. La Maison Vert Amande is set in a traditional Greek home that dates all the way back to the year of 1880. The house sits on a farm that is not far from some of the best beaches in Greece. With delicious breakfast and friendly faces, La Maison Vert Amande is one of the most warm and inviting bed and breakfasts in all of Greece.
Stay in any of these lovely options and you will be sure to enjoy delicious breakfast and a genuine Greek experience without breaking the bank.
Greece's Best Luxury Hotels
If you are someone who is looking to treat yourself to the best of the best with a luxurious experience, Greece has options that will be sure to suit your fancy. All of these wonderful luxury hotels have plenty to offer such as elegant dining, breathtaking architecture, beautiful landscaping, and an experience that will have you feeling like royalty.
One option that needs to make this short list is the Hotel Grande Bretagne. The Hotel Grande Bretagne is a historical landmark that is located in Athens and dates back to the year of 1874. The Hotel Grande Bretagne is truly breathtaking, with gorgeous architecture, beautiful art pieces, and priceless antiques throughout. This hotel sets the standard for how a luxury hotel is properly done. The Hotel Grande Bretagne boasts 320 rooms, all of which are elegantly appointed and features two swimming pools, restaurants, a full gym, and a spa.
Another great luxury hotel is Kivotos. Kivotos is located in Mykonos and is surrounded by the beautiful waters of Ornos. This lovely hotel features a very impressive, personalized experience and showcases beautiful modern art and rare antiques throughout. The Kivotos offers numerous things to enjoy such as a secluded beach area, two swimming pools with jacuzzis, a fitness center, a spa and salon, three different restaurants, and much more. Kivotos also offers a yacht that can be used for daily cruises or for private dinners. Kivotos goes above and beyond for its guests and is one of the best hotels in all of Greece.
Staying at one of Greece's luxury hotels will not only allow you to experience the country's finest places, but will also allow you to indulge in some of Greece's most historic and beautiful architecture making a worthwhile experience.
Vacation Rentals
Are you traveling to Greece with a large group of friends or family? In that case, the best option would be a vacation rental. You can rent anything from spacious homes and villas to condos or apartments. Need a kitchen? These rentals offer all the comforts of home in a tropical setting. Check out AirBnB for available properties for rent during your trip. There's sure to be something to fit your needs.
Camping Sites
One thing that may not come to mind when people think about staying in the country of Greece is the country's amazing camping spots. While most come to Greece to experience its beauty and landmarks, if you are particularly outdoorsy, Greece's camping sites should not go unnoticed.
A great spot to enjoy some quality camping in Greece is at Gythion Bay. At Gythion Bay, you will be able to experience the beautiful Greek countryside right near the beach of Mavrovouni. It is a perfect place to cool down and enjoy some fun in the sun. At Gythion Bay, you can set up camp anywhere you like and there are options for electricity access if you need it.
Another great spot for spending the night under the stars is at the Simos Campsite at Simos Beach. As you set up your campsite, you will enjoy the stunning waters of the Mediterranean with soft and white sand, sand dunes, and more. The Simos Campsite welcomes those who prefer camping in the comfort of a camper or camping in a tent. The Simos Campsite is great for those who enjoy all sorts of water activities and is a very popular place for swimming, kayaking, even surfing. The Simos Campsite allows you to enjoy camping in a tropical paradise, making this campsite a rather magical one.
Yes, camping may not be something that most people think of when looking to vacation in Greece, but those who enjoy the great outdoors and are looking for a unique and beautiful place to camp at, Greece has plenty of options.
Places to See
One of the most popular destinations when visiting Greece is the city of Athens. Strolling down the streets of Athens, you will feel as if you have been taken back to another time, with breathtaking and historic architecture all around you. There are also plenty of shops and restaurants in this city as well, all of which are fun to visit. Landmarks that you have to visit when spending time in the city of Athens include:
● Acropolis - one of the most famous attractions in all of Greece, this historic landmark boasts many important and critical landmarks of Greek history. Acropolis is considered to be the highest point in spiritual Greek culture and not only will you be able to appreciate the ruins here, but also you will have a great view of the entire city of Athens for some truly stunning photography opportunities.
● Parthenon - the most famous building in all of Greece, Parthenon stands proudly at the top of Acropolis and is the best example of ancient Greek architecture. The building was built to honor the goddess Athena Parthenos and offers many different sculptures surrounding it, showing off ancient Greek art.
● Plaka - a very popular place to visit in Athens, the Plaka district is a great place to visit when looking to experience authentic Greek culture. Plaka is a rather private area of Athens and offers beautiful scenery with many different cafes throughout as well as ancient trees. Plaka is known for its different places to eat and its boutique shops.
Another city to be visited is Thessaloniki. Thessaloniki is said to be the cultural capital of Greece and is the second largest city in the country. This beautiful city is riddled with history, beautiful ancient ruins, and structures throughout. Thessaloniki is also known for its lively nightlife as well as its delicious food.
Shopping
One of the most important parts of any trip is collecting souvenirs to bring home commemorating your time on vacation. If you're interested in shopping, there are plenty of shops to choose from.
When visiting Greece, it is essential to pick up some souvenirs from your trip, and what better place to do that than at the Piraeus Flea Market? The Piraeus Flea Market is one of the most authentic and local experiences in all of Greece. The Piraeus Flea Market is located in Piraeus and it opens early in the morning and stays open until the evening hits. Most of the items sold here are cheap, making a great place to pick up a unique souvenir without breaking the bank. Be sure to bring your bargaining skills with you as you shop—you can try to bring the price down if you feel like they are asking for a bit much.
A great place to go on a shopping spree is Ermou Street. Ermou Street is located in the city of Korinthos and boasts a number of luxury brands that tend to have items marked down. The stores at Ermou Street include Zara, Sephora, Marks and Spencer, and much more. There are also some great local options for shopping on this street as well if you aren't looking to shop for luxury items.
When planning your trip, take note of any special festivals that may be happening while you're there. The festivals often include crafts for kids as well as displays of artistry available for purchase.
Art, History, & Culture
Maybe a trip to Greece inspires you to deep dive into the culture and history of the island. You have plenty of options for this. From museums to street art, there's an experience for everyone. You never know where the next turn will take you. Expect to encounter beautiful architecture while walking through the streets.
Dining Options
You simply cannot go on a trip without trying to experience some of the food that the culture has to offer. A great way to experience food that isn't like the food from back home is by visiting local favorites. Wherever you find yourself in Greece, finding a delicious local restaurant is a must.
Fine Dining
If you happen to be visiting Greece for a special occasion such as your honeymoon, an anniversary, or to appreciate fine dining, Greece has plenty to offer.
A wonderful place to enjoy Greek food is at Spondi. Spondi is a restaurant located in the city of Athens and has built quite a reputation. Boasting two Michelin Stars, Spondi is well known and provides a proper fine-dining experience. One unique thing about Spondi is that the menu changes with the seasons. The food that is masterfully crafted offers delicious flavors with a unique spin from the head chef.
Another delicious restaurant is Papadakis. Papadakis not only provides guests with fine dining, but with an authentic Greek cuisine experience. Located in Athens, this restaurant is a must and will give you the opportunity to learn more about Greek culture as well as how traditional Greek food is prepared.
Casual Dining
When looking for good food in Greece, it is not hard to find, but a great place to look for tasty casual dining spots is in Athens.
A great option for a casual and tasty place to eat out in Greece is Foofootos. Foofootos offers delicious Greek cuisine in a modern and creative way. Local favorites include dishes such as the spetsofai which is a cooked sausage dish, chick pea soup with salted pork, and even beef liver. The atmosphere at Foofootos is fun and happy, making it a great place for hungry families.
Breathtaking
One word to describe Greece is simply breathtaking. Greece is one of the most beautiful and historic countries in the entire world. You will learn and experience so much on a trip to Greece that it is guaranteed to be one of the most memorable experiences of your entire life.