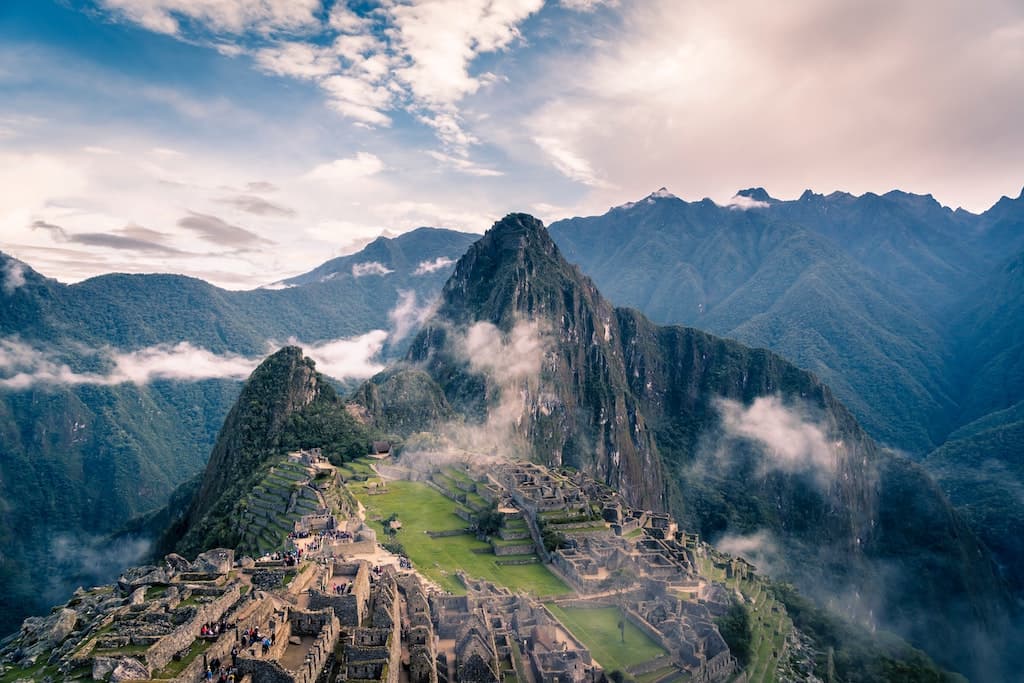 Photo by Willian Justen de Vasconcellos on Unsplash
Are you looking for a place to visit that boasts some of the most beautiful geography in the entire world—as well as mysterious ancient architecture? We have the place just for you. Stay with us and find out why Peru should make your list when deciding where to vacation with your family.
Peru is an extremely unique country for many different reasons. For starters, Peru hosts multiple different ecosystems that call for a wide range of different plants and animals. Due to this fascinating fact, Peru is more diverse than most countries. Peru is also full of beautiful geographical examples as well as ancient architecture. Peru has a population of over 33 million people and rakes in millions of tourists each year who are looking to experience all that Peru has to offer. Let's have a look at why Peru should make your list when looking for your next vacation spot.
Best Places to Stay
One of the most important parts about booking any trip is finding where you will be staying during your time there. Lucky for you, Peru offers plenty of options. If you are looking to stay somewhere cheap such as a small hotel, somewhere more luxurious to appreciate beautiful and historic architecture, or if you are looking for a house to rent out for total privacy, Peru will accommodate. If you are outdoorsy and prefer to spend your nights under the stars, Peru also provides plenty of different camping site options for you as well.
Bed and Breakfasts
One way to save money while experiencing Peruvian culture is staying at one of Peru's bed and breakfasts. These lovely little places to stay each offer a certain charm about them. With most of them being family owned, staying at a bed and breakfast in Peru will ensure a warm, friendly atmosphere.
A wonderful option in Peru is at the Lima 18 Boutique. The Lima 18 Boutique is located not far from Playa Tres Picos and has plenty to offer. Lima 18 Boutique offers a welcoming environment with spacious rooms, room service, and much more. Lima 18 Boutique also of course offers a delicious breakfast in traditional Peru fashion.
Another excellent option when looking for a great bed and breakfast in Peru is at La Casona Azul. La Casona Azul provides a very friendly atmosphere and has a front desk service that will be happy to help you whenever you need it, day or night. Many of the different spaces at La Casona Azul offer flat screen television, a full kitchen, and of course, a delicious breakfast. La Casona Azul offers a continental breakfast as well as a vegetarian breakfast option that will surely satisfy all who stay here.
Last but certainly not least, the Lighthouse Bed and Breakfast offers a lot of charm. This bed and breakfast is located in Lima and boasts views of the city. It is not far from attractions such as La Pampilla Beach. The Lighthouse Bed and Breakfast also offers rooms extravagantly decorated and some rooms with TV's, free WiFi, as well as a terrace for guests to enjoy. The Lighthouse Bed and Breakfast also offers a delicious American-style breakfast to look forward to in the morning.
Stay in any of these lovely options and you will be sure to enjoy delicious breakfast and charm without breaking the bank.
Peru's Best Luxury Hotels
If you are looking to treat yourself to the best of the best with a luxurious experience, Peru has options that will be sure to suit your fancy. All of these glamorous hotels have plenty to offer such as elegant dining, breathtaking architecture, beautiful landscaping, and an experience that will have you feeling like royalty.
One fabulous offering is at Hotel B. Hotel B is located in the bohemian district of Barranco and has much to write home about. For starters, Hotel B's location is perfect for those who enjoy fine art as well as delicious restaurants. Hotel B is located by some of the best art galleries in Peru as well as old historic mansions and plenty of delicious renown restaurants. Hotel B is here to spoil you and this is made apparent as soon as you step into this hotel's lobby, with beautiful art and architecture throughout. On top of the hotel's luxurious rooms and beauty, Hotel B also offers a very popular bar right on its grounds that is a great place to end a night.
Another location you should definitely consider is Inkaterra Machu Picchu Pueblo. Inkaterra Machu Picchu Pueblo is a breathtaking place to stay and consists of multiple villas that are located within a lush rainforest. There are plenty of things to do here besides admire your surroundings, with events that make for a fun time with your family, as well as numerous animals that seek refuge within the forest. Inkaterra Machu Picchu Pueblo is truly a place that you will certainly never forget.
Staying in Peru's luxury hotels will allow you to not only have a fantastic experience, but also allow you to step foot in some of the country's most historic and beautiful buildings.
Vacation Rentals
Are you traveling to Peru with a large group of friends or family? In that case, the best option for you would be a vacation rental. You can rent anything from spacious homes and villas to condos or apartments. Need a kitchen? These rentals offer all the comforts of home in a tropical setting. Check out AirBnB for available properties for rent during your trip. There's sure to be something to fit your needs.
Camping Sites
One thing that may not come to mind when people think about staying in Peru is the country's amazing camping spots. While most come to Peru to experience its culture and ancient history, if you are particularly outdoorsy, Peru's camping sites should not go unnoticed.
A great place to camp when looking to spend a night under the stars in Peru is at Marcahuasi. Marcahuasi is located just three hours from the city of Lima and offers numerous things to see and do. Things that make Marcahuasi worth visiting include its ancient architectural ruins, unique and interesting rock formations, and beautiful scenery. If you want to ensure a fun and adventurous camping spot, Marcahuasi is the spot for you.
Another that will truly take your breath away is at Rupac. Rupac has much to boast of but one thing that needs to be mentioned is the Ciudad de Fuego, which means "City of Fire." Ciudad de Fuego is an archaeological complex that sits on the top of the mountain and offers stunning views as well as some of the most beautiful sunsets that you will ever see. Rupac also boasts ancient structures that date back all the way to 1200 AD. These buildings are all made of stone and are still in amazing condition. If you look to camp in Peru, you owe it to yourself to check out Rupac.
When visiting Peru, you will have access to explore some of the world's most beautiful geography and also set up a campsite for some of the most stunning camping sites in the entire world.
Places to See
One of the most popular destinations when visiting Peru is the city of Cusco. Strolling down the streets of Cusco, you will feel as if you have been taken back to another time, with breathtaking and historic architecture all around you. There are also plenty of places to shop at and restaurants in this city as well, all of which are fun to visit. Landmarks that you have to visit when spending time in the city of Cusco include:
● The Main Cathedral - This is one of the biggest attractions in all of Cusco. The Main Cathedral dates back to the year of 1539 and was declared a World Heritage site. There are multiple tours per day of the Main Cathedral and it is highly recommended that you check out this breathtakingly gorgeous piece of architecture.
● The Qorikancha Temple - Also known as the sun temple, the Qorikancha Temple is a very historic and sacred place that has a rich history. To visit this magnificent temple, there are paid tours that you can take part in where you will learn much about the Qorikancha Temple, as well as gain some more insight on the history of Cusco.
● Sacsayhuaman - One of the largest structures in the city, Sacsayhuaman is an Inca Ceremonial Fortress that was built in between the fifteenth and sixteenth centuries. The Sacsayhuaman is a part of the deepest history of the city of Cusco and played a role during the colonization of this beautiful city. The Sacsayhuaman offers tours as well, giving you the opportunity to learn more about this magnificent structure and city.
Another great city to visit in Peru is Arequipa. Arequipa is one of the most important cities in the country. This city is filled with excitement and things to see such as the second deepest canyon in the world, volcanoes, museums, sanctuaries, and much more. The city of Arequipa also boasts a rich history that will give you the opportunity to experience Peru in an authentic way.
Shopping
One of the most important parts of any trip is collecting souvenirs to bring home commemorating your time on vacation. If you're interested in shopping, there is plenty to choose from.
A great place to visit when looking to do some shopping is at Parque Central De Miraflores in the city of Lima. Shopping at Parque Central De Miraflores gives you a great opportunity to find unique souvenirs to bring back home from your trip to Peru. There are many different vendors that line the park and offer several fabulous things such as clothing, jewelry, antiques, and very unique items that you will not find anywhere else. There are plenty of hidden gems when shopping at Parque Central De Miraflores and the best part is that most items are very inexpensive. Be sure to take advantage of the restaurants nearby to help fuel you during your shopping spree.
One thing that Peru is known for is the country's fine alpaca goods. A good place to find some of the best quality alpaca goods and clothing is at Peru's Alpaca 111. When shopping at Alpaca 111, you will be treated to the highest quality alpaca wool, not only in Peru, but in the entire world. Be prepared to pay a steeper price for it, however.
When planning your trip, take note of any special festivals that may be happening while you're there. The festivals often include crafts for kids as well as displays of artistry available for purchase.
Dining Options
You simply cannot go on a trip without trying to experience some of the food that the culture has to offer. A great way to experience food that isn't like the food from back home is by visiting local favorites. Wherever you find yourself in Peru, finding a delicious local restaurant is a must.
Fine Dining
If you happen to be visiting Peru for a special occasion such as your honeymoon, an anniversary, or to simply appreciate fine dining, Peru has plenty to offer.
A fantastic restaurant in Peru is Astrid and Gaston. Astrid and Gaston is located in the city of Lima and is run by two famous chefs named Astrid Gutsche and Gaston Acurio. This lovely restaurant is known for its unique and daring dishes that add excitement both in presentation and in flavor. The restaurant's menu changes every six months which gives you a reason to come in over and over again to try something new each time you visit.
The city of Lima is known for having some of the best restaurants in the world and a restaurant that is considered to be one of the best in the city is Central. Dining at Central will give you the opportunity to not only indulge in some of the best food you have ever had, but also will educate you in the culture of Peru as well as the beautiful geography of the country. This makes Central a must visit when touring Peru, as you will truly gain a new understanding of the culture of the country as well as amazing food.
Casual Dining
When looking for good food in Peru, look for tasty casual dining spots in the city of Lima.
You won't go wrong dining at Cosme. At Cosme, you get the best of both worlds. Not only do you get a comfortable casual dining experience with delicious comfort foods, you can also be certain you are getting the best quality food. Cosme offers a friendly atmosphere and is an excellent place to grab a bite to eat during or after a day of hitting the town.
Earth's Finest
When picking Peru to visit for your next vacation, you have certainly picked the right place. With so many things to do, learn about, and appreciate, visiting Peru will be an experience that will be remembered for the rest of your life. Whatever the occasion, you won't regret visiting this lovely part of the world.