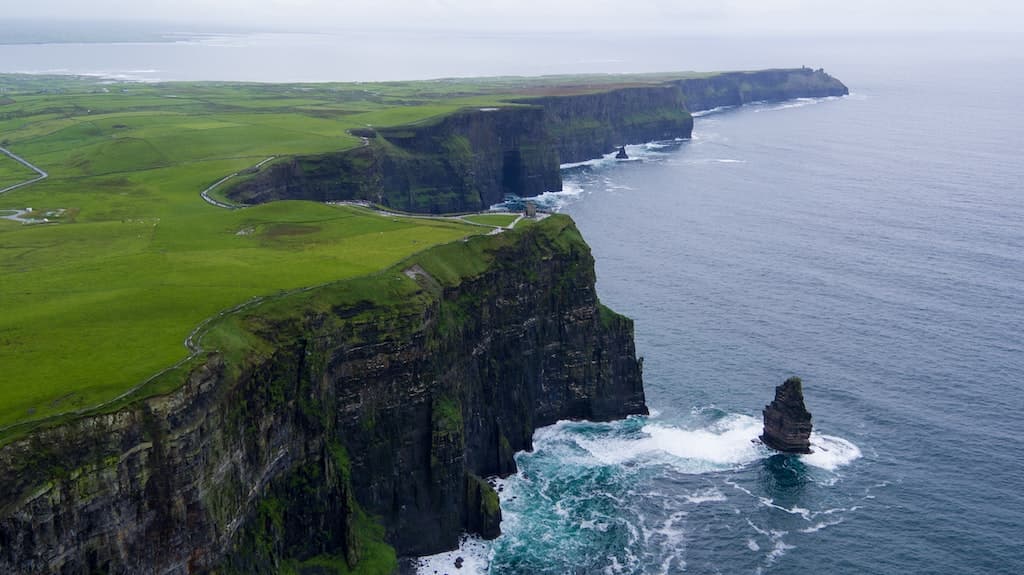 Photo by Kelly on Pexels
Are you looking for a place to visit that allows you to experience beautiful views of both the landscape and the ocean? We have just the place for you. Come and learn why the magnificent country of Ireland is where you and your family should book your next vacation.
Ireland is a unique island for many reasons. First, Ireland gets its own worldwide holiday! The holiday that celebrates the country of Ireland and is celebrated throughout the globe is of course St. Patrick's Day. As of 2020, Ireland boasted a population of around 5 million people and brings in millions of tourists each year who fancy beautiful architecture, Irish culture, ancient history, and much more. Let's have a look at why Ireland should make it on your list when looking for a vacation spot.
Best Places to Stay
One of the most important parts about booking any trip is finding where you will be staying during your time there. Lucky for you, Ireland offers plenty of options. If you are looking to stay somewhere cheap such as a small hotel, looking for somewhere more luxurious where you can appreciate beautiful and historic architecture, or looking for a house to rent out for total privacy, Ireland will be sure to accommodate. If you are outdoorsy and prefer to spend your nights under the stars, Ireland also provides plenty of different camping site options for you as well.
Bed and Breakfasts
One way to save money while also being able to experience the culture of Ireland is at one of Ireland's bed and breakfasts. These lovely little places each offer a certain charm about them, with most of them being family owned. Staying at a bed and breakfast when in Ireland will ensure a warm and friendly atmosphere.
A charming and affordable option in Ireland is Oranhill Lodge. The Oranhill Lodge is a charming bed and breakfast. The Oranhill Lodge offers numerous features such as a cozy atmosphere, lovely views of the Irish countryside, delicious breakfast, a friendly environment, and much more. The Oranhill will not burn a hole in your pocket either. With rates starting at $130.00 per night, you will be sure to be provided a wonderful place to stay without having to shell out the big bucks.
Another option for a bed and breakfast in Ireland is the St. Jude's Lodge. The St. Judes Lodge is located in central Ireland and is perfect for those looking for a place to stay that isn't far from Eyre Square. St. Judes Lodge is also a great place for a romantic getaway and offers numerous features such as multiple different rooms to choose from, a full breakfast bar, a warm and inviting atmosphere.
Last but not least, the Kilronan House is a warm bed and breakfast that blends modern creature comforts with old world charm. Located near the Georgian Square of Dublin City, the Kilronan House is a convenient and rather classy example of a bed and breakfast. The Kilronan House was built in the year of 1834 and features beautiful decorations throughout that give this place a rather unique atmosphere as soon as you step through its doors. The Kilronan House of course offers a delicious breakfast as well as other features such as free parking, a taxi service, and much more.
Stay in any of these lovely options and you will be sure to enjoy delicious breakfast and old world charm without breaking the bank.
Ireland's Best Luxury Hotels
If you are someone who is looking to treat yourself to the best of the best with a luxurious experience, Ireland has options that will be sure to suit your fancy. All of these wonderful luxury hotels have plenty to offer such as elegant dining, breathtaking architecture, luxurious landscaping, and an experience that will have you feeling like a king.
One option when looking for an amazing hotel in Ireland is the Dromoland Castle Hotel. Ireland is known for its castles and the Dromoland Castle Hotel gives you the chance to stay in one. This hotel will make you feel like you are living in a fairy tale, with not only the gorgeous hotel itself, but also the land surrounding it. The Dromoland Castle Hotel is situated near the Rivers Rine and Fergus, providing glorious views. This hotel will literally have you feeling like royalty, with all of its magnificent furniture and architecture, as well as the hotel's very own spa and delicious top tier restaurants.
Another option that had to make this list is the Adare Manor. The Adare Manor sits just outside the village of Adare. The Adare Manor is intoxicatingly beautiful to look at and some say is the fanciest hotel in all of Ireland. As you could probably imagine, Adare Manor has a lot to offer, including the hotel's lavish state rooms, a Michelin-starred restaurant, and an environment that encompasses old-world Ireland.
Staying in Ireland's luxury hotels will allow you to not only have a luxurious experience, but also allow you to step foot in some of the island's most historic and beautiful buildings making it a pleasure to stay if you feel like treating yourself.
Vacation Rentals
Are you traveling to the country of Ireland with a large group of friends or family? In that case, the best option for you would be a vacation rental. You can rent anything from spacious homes and villas to condos or apartments. Need a kitchen? These rentals offer all the comforts of home in a tropical setting. Check out AirBnB for available properties for rent during your trip. There's sure to be something to fit your needs.
Camping Sites
One thing that may not come to mind when people think about staying in Ireland is the country's amazing camping spots. While most come to Ireland to experience its castles and Irish pubs, if you are particularly outdoorsy, the country of Ireland's camping sites should not go unnoticed.
A wonderful option when looking to spend a night underneath the stars is at Chleire Haven. Chleire Haven is one of the most unique campsites that Ireland has to offer. Chleire Haven sits on a cozy, remote property that provides Asian-inspired yurts right by the water, allowing you to leave your tent at home. Chleire Haven boasts fully furnished yurts as well as wood burning stoves and an outdoor BBQ area.
Another wonderful option when camping in Ireland is at the Clifden Eco Beach. The Clifden Eco Beach allows guests to bring their own tent and set up their own site there as well as renting out one of their prearranged setups. This wonderful camping site allows guests to have a camping experience while also enjoying time on the beach. The Clifden Eco Beach is located near the shoreline of Connemara and boasts stunning views of the ocean while also offering its very own private beach. If you find yourself wanting to utilize the Clifden Eco Beach camping setups, the sites offer beds, making it a more comfortable experience for those who want to camp in luxury.
While it may be something that most do not think about when booking a trip to Ireland, those who enjoy the outdoors will be pleased to know that there are plenty of options.
Places to See
One of the most popular destinations when visiting Ireland is the city of Dublin. Strolling down the streets of Dublin, you will feel as if you have been taken back to another time, with breathtaking and historic architecture all around you. There are also plenty of places to shop at and restaurants in this city as well, all of which are fun to visit. Landmarks that you have to visit when spending time in Dublin include:
● Grafton Street - one of the city's most visited streets by tourists, Grafton Street boasts many different places to shop as well as many delicious restaurants, making it a perfect place to enjoy a full day of shopping. Grafton Street is also known for its live street performances throughout as well as its friendly people.
● Trinity College - Ireland's oldest university, this lovely school is the perfect place for those looking to experience one of Ireland's ancient gems. Trinity College was founded in the year of 1592 by Queen Elizabeth I and displays the magnificence of what old Dublin used to be.
● Kilmainham - a must visit for history buffs, Kilmainham is known to be part of the country of Ireland's dark history. Kilmainham used to be a prison and is infamously known for the many executions in that took place there as well as many different tortures acts. This is a must visit for those who are interested in revealing the country of Ireland's dark past.
When spending time in Ireland, visit the city of Galway. The great thing about the city of Galway is that it caters to people who enjoy spending time hitting the town as well as those who prefer to spend their time in nature. Galway enjoys a lively nightlife as well as plenty of outdoorsy attractions that are right outside of the city.
Shopping
One of the most important parts of any trip is collecting souvenirs to bring home commemorating your time on vacation. If you're interested in shopping, there are plenty of shops to choose from.
The Dundrum Shopping Centre in Dublin is a place that is a must-visit. The Dundrum Shopping Centre is one of the prime shopping areas in Dublin and offers a wide range of different shops and restaurants that will be sure to keep you busy for an entire day. If you are looking to do some high end shopping when at the Dundrum Shopping Centre, Harvey Nichols and the House of Fraser are your friends. The Dundrum Shopping Centre also offers many different boutiques as well as sports supply shops, and much more, making the Dundrum Shopping Centre a great place for everyone to spend a day shopping to their heart's content. There are also different activities to enjoy as well such as mini-golf and theaters.
Last but not least, another wonderful option for shopping when in Ireland is at Henry Street. Located in Dublin, Henry Street offers numerous shopping malls as well as many different street shops that are set up and offer a perfect opportunity to grab a souvenir. There are also plenty of food options as well, making it a great place for an all day shopping spree.
When planning your trip, take note of any special festivals that may be happening while you're there. The festivals often include crafts for kids as well as displays of artistry available for purchase.
Art, History, & Culture
Maybe a trip to Ireland inspires you to deep dive into the culture and history of the country. You have plenty of options for this. From museums to street art, there's an experience for everyone. You never know where the next turn will take you. Expect to encounter beautiful architecture while walking through the streets.
If you are someone who enjoys visiting museums, you have a lot of options there, too. Choose from art, archaeology, music, science, history, and so much more. Visiting any one of the museums is a great way to fully immerse yourself and learn about the history of Ireland.
Dining Options
You simply cannot go on a trip without trying to experience some of the food that the culture has to offer. A great way to experience food that isn't like the food from back home is by visiting local favorites. Wherever you find yourself in Ireland, finding a delicious local restaurant is a must.
It does not matter if you are looking for an easy place to grab a quick bite to eat or looking for a place to enjoy some fine dining, Ireland has it all. Lucky for you, Ireland boasts some of the best places to enjoy tasty food so you will be sure to find something that you will enjoy.
Throughout all of Ireland, you will find different kinds of food depending on where you are in the country. There is no need to worry though, because Ireland is not short of delicious eateries, so wherever you find yourself in Ireland, there is always a good place to eat nearby.
Fine Dining
If you happen to be visiting Ireland for a special occasion such as your honeymoon, an anniversary, or you simply just appreciate fine dining, Ireland has plenty to offer.
A lovely place to enjoy a delicious meal with your loved ones or friends when in Ireland is at the L'Ecrivain. The L'Ecrivain is a restaurant that is located in Dublin and proudly displays the highly regarded award of a Michelin star. This classy restaurant offers a delicious menu with items that are masterfully prepared as well as numerous features that make this fine dining experience unique. At L'Ecrivain, expect to see an attractive terrace to sit down and eat at as well as a private dining room and a bar. Another unique feature of this lovely restaurant is when in the private dining room, L'Ecrivain has provided screens that show a live feed of the kitchen to watch the master chefs do what they do best.
Another restaurant that needs to be talked about when mentioning fine dining in Ireland be the Patrick Guilaud restaurant. Patrick Guilaud is a very relaxing and elegant restaurant that is located within a Georgian house. Every detail at Patrick Guilaud is accounted for and you can tell as soon as your food arrives at your table, with beautiful presentations that are made possible through luxurious ingredients as well as the master chef's unique skills.
Casual Dining
When looking for good food in Ireland, it is not hard to find, but a great place to look for tasty casual dining spots is in the city of Dublin.
A great example of tasty casual dining in Dublin would be at Bite. Bite is a restaurant known for being a fun and upbeat place to dine. Bite gives a new take on fish and chips with its unique offerings throughout its menu. If you want a modern twist on seafood while in a fun and casual atmosphere, Bite is the perfect place for you.
An Irish Adventure
When picking Ireland to visit for your next vacation, you have certainly picked the right place. With so many things to do, so many things to learn about and appreciate, visiting Ireland will be an experience that you will be sure to remember for the rest of your life. Whatever the occasion is, you will be sure to be making a good decision when visiting this lovely part of the world.