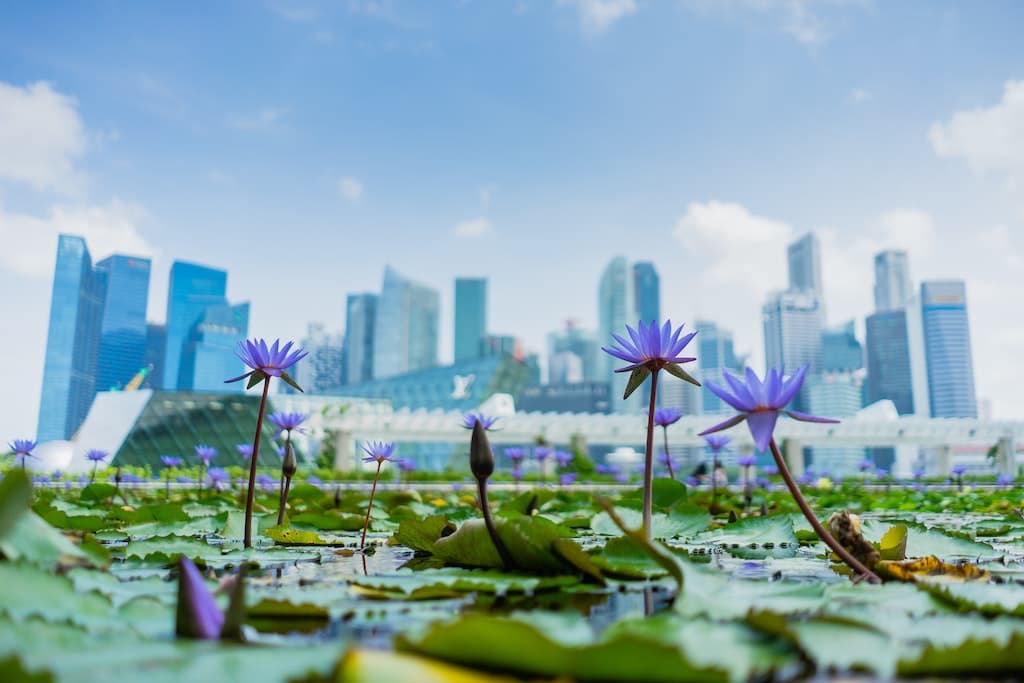 Photo by Muhammad Faiz Zulkeflee on Unsplash
Are you looking for a place to visit that allows you to experience an urban yet tropical oasis with gorgeous gardens everywhere you look? We have just the place for you. Stay with us and learn why the magnificent island of Singapore is where you and your family should book your next vacation.
Singapore is such a captivatingly unique island that this island is not only beautiful in its own right, but also one of the safest places in the world. Singapore boasts many laws that keep petty crimes low, making it a place that you can trust to be a rather safe place to visit for you and your family. As of the year 2020, Singapore boasts a population of around 5 million people and brings in millions of tourists each year who fancy beautiful architecture, gorgeous greenery, ancient history, and much more. Let's have a look at why Singapore should make it on your list when looking for a place to vacation at.
Best Places to Stay
One of the most important parts about booking any trip is finding where you will be staying during your time there. Lucky for you, the island of Singapore offers plenty of options. If you are looking to stay somewhere cheap such as a small hotel, somewhere more luxurious where you can appreciate beautiful and historic architecture, or a house to rent out for total privacy, Singapore will be sure to accommodate. If you are outdoorsy and prefer to spend your nights under the stars, Singapore also provides plenty of different camping site options for you as well.
Bed and Breakfasts
One way to save money while also being able to experience the culture of Singapore is staying at one of the island of Singapore's bed and breakfasts. These lovely little places to stay each offer a certain charm about them, with most of them being family owned, staying at a bed and breakfast when in Singapore will ensure a warm and friendly atmosphere.
A charming and affordable option when staying in Singapore is the ST Signature Tanjong Pagar. St Signature Tanjong Pagar is a small bed and breakfast in Singapore that has plenty of features that make it worth staying at. Features include a warm and friendly atmosphere, cozy rooms, a restaurant that serves delicious breakfast, as well as rates that are priced around $120 per night.
Another option is the J8 Hotel. The J8 hotel is a small hotel located near landmarks such as the Singapore Flyer and Orchard Road, making this bed and breakfast a rather convenient one. The J8 Hotel also offers a 24-hour check in period as well as a 24-hour front desk. It would be wrong to talk about a bed and breakfast without speaking of the breakfast and the J8 Hotel provides a free and delicious breakfast that you can take advantage of with each morning of your stay.
Last but not least, Hotel Bencoolen is a comfortable bed and breakfast that is definitely worth considering during your stay in Singapore. Hotel Bencoolen is located right off of Hong Kong Street and offers a very personalized and friendly service that will be available to accommodate your needs. This hotel is perfect for families, as kids can stay with no additional charge and the Hotel Bencoolen also offers a pool for you and your family to enjoy. Rates for the Hotel Bencoolen are around $120.00 per night, making this hotel both friendly and affordable.
Stay in any of these lovely options and you will be sure to enjoy delicious breakfast and a friendly atmosphere without breaking the bank.
Singapore's Best Luxury Hotels
If you are someone who is looking to treat yourself to the best of the best with a luxurious experience, the island of Singapore has options that will be sure to suit your fancy. All of these wonderful luxury hotels have plenty to offer such as elegant dining, breathtaking architecture, beautiful landscaping and an experience that will have you feeling like a king.
One option is the Mandarin Oriental Singapore. This lovely hotel located at Marina Bay will impress you as soon as you step into the hotel's lobby. After booking one of the 527 different rooms at the Mandarin Oriental Singapore, you will be pleased at just how well appointed your room is, with a contemporary design, each room offers floor to ceiling windows that provide an excellent view of the ocean and harbor as well as the city. The Mandarin Oriental Singapore also offers delicious food and cocktails, as well as a gorgeous swimming pool.
The Marina Bay Sands Hotel is an amazing hotel that offers 2560 luxurious rooms and 18 different room designs for you to choose from. There are so many features that this luxury hotel offers but one feature that needs to be mentioned is the SkyPark. The Skypark floats above the hotel at a height of 650 feet and offers a luscious garden, high end restaurants, amazing views, and a beautiful infinity pool.
Staying in the island of Singapore's luxury hotels will allow you to not only have a luxurious experience, but also allow you to step foot in some of the island's most historic and beautiful buildings making it a pleasure to stay if you feel like treating yourself.
Vacation Rentals
Are you traveling to Singapore with a large group of friends or family? In that case, the best option for you would be a vacation rental. You can rent anything from spacious homes and villas to condos or apartments. Need a kitchen? These rentals offer all the comforts of home in a tropical setting. Check out AirBnB for available properties for rent during your trip. There's sure to be something to fit your needs.
Camping Sites
One thing that may not come to mind when people think about staying in Singapore is the island's amazing camping spots. While most come to Singapore to experience its city, if you are particularly outdoorsy, Singapore's camping sites should not go unnoticed.
A wonderful option when looking to spend a night underneath the stars is at East Coast Park. When camping at East Coast Park, one of the great things about this lovely location is that while Singapore is known for being hot and humid, at East Coast Park, there is always a refreshing breeze that will make your camping site comfortable. This lovely camping site sits right by the water and offers picnic tables for you and your family to have a place to sit and eat while appreciating the great outdoors of Singapore.
Another wonderful option when looking to camp when spending time in Singapore is at West Coast Park. West Coast Park is a perfect place for taking your family on a camping trip in Singapore because West Coast Park is known for being one of Singapore's best places to spend time in the great outdoors. West Coast Park sits on approximately 50 hectares of land which hosts an abundance of features, all for you to enjoy. The features that the West Coast Park offers includes of course its camping sites, a dog run, barbecue pits, and a massive playground for the kiddos to enjoy. Be sure to bring your bike as well because the West Coast Park is a favorite place for cyclists. In case you and your family are just spending a day at the West Coast Park, there is also a McDonald's near the park for easy access to fast food.
While it may be something that most do not think about when booking a trip to Singapore, those who enjoy the outdoors will be pleased to know that there are plenty of options.
Places to See
One of the most popular destinations when visiting Singapore is the city of Jurong East. Strolling down the streets of Jurong East, you will be impressed as you walk through this urban yet tropical environment. There are also plenty of places to shop at and restaurants in this city as well, all of which are fun to visit. Landmarks that you have to visit when spending time in the city of Jurong East include:
● Jurong Bird Park - an iconic staple of Jurong East, the Jurong Bird Park is perfect for animal lovers and those who want to see all of the unique bird species that are housed here. The Jurong Bird park has over 3500 birds and hosts fun shows that feature the birds doing acrobatic stunts that will be sure to amaze you. You will surely have your children thanking you as they witness all that the Jurong Bird Park has to offer.
● Snow Chill - a fun place to spend time and escape from the hot weather, Snow Chill is located inside of the Science Center and is known to be the first permanent snow center in Singapore. At Snow Chill, guests will be able to enjoy many activities such as enjoying the artificial snow, skiing, meeting snow animals, and sleigh riding.
● Japanese and Chinese Garden - a perfect place for those looking for a beautiful garden to enjoy when spending time in the city of Jurong East. These two gardens are professionally taken care of and offer numerous things to enjoy such as beautiful green meadows, park benches, stone arches, ponds, bridges, and gazebos. If you find yourself in the city of Jurong East with your significant other, the Japanese and Chinese Garden is a perfect place for a romantic stroll.
Another great city to visit is Tampines. The city of Tampines is the third largest city in Singapore and has a rather luxurious atmosphere. The city of Tampines is known for its numerous parks and beautiful gardens throughout.
Shopping
One of the most important parts of any trip is collecting souvenirs to bring home commemorating your time on vacation. If you're interested in shopping, there is plenty to choose from.
When in Singapore, Orchard Road is a place for shopping that is a must-visit. Orchard Road is located in the heart of Singapore and features 2.2 kilometers of shopping malls, making Orchard Road the main shopping hub of Singapore. If you have a taste for designer items, you will feel right at home, with numerous complexes such as ION Orchard and Paragon sitting on Orchard Road, all of which offer all of the top designer brands available. Orchard Road is also great for those looking for a bargain, with the Lucky Plaza offering affordable items as well as numerous restaurants and fine bars located right on the street, making shopping at Orchard Road an all day affair.
Last but not least, another wonderful option for shopping when in Singapore is shopping at the Chinatown Street Market. With so many unique items and stores at the Chinatown Street Market, you may find yourself stopping here more than once just to explore all that the Chinatown Street Market has to offer. The Chinatown Street Market is also perfect for those looking for a cheap souvenir to bring back home from your trip.
When planning your trip, take note of any special festivals that may be happening while you're there. The festivals often include crafts for kids as well as displays of artistry available for purchase.
Art, History, & Culture
Maybe a trip to Singapore inspires you to deep dive into the culture and history of the island. You have plenty of options for this. From museums to street art, there's an experience for everyone. You never know where the next turn will take you. Expect to encounter beautiful architecture while walking through the streets.
If you are someone who enjoys visiting museums, you have a lot of options there, too. Choose from art, archaeology, music, science, history, and so much more. Visiting any one of the museums is a great way to fully immerse yourself and learn about the history of Singapore.
Dining Options
You simply cannot go on a trip without trying to experience some of the food that the culture has to offer. A great way to experience food that isn't like the food from back home is by visiting local favorites. Wherever you find yourself in Singapore, finding a delicious local restaurant is a must.
It does not matter if you are looking for an easy place to grab a quick bite to eat or looking for a place to enjoy some fine dining, Singapore has it all. Lucky for you, Singapore boasts some of the best places to enjoy tasty food so you will be sure to find something that you will enjoy.
Throughout all of Singapore, you will find different kinds of food depending on where you are in the country. There is no need to worry though, because Singapore is not short of delicious eateries, so wherever you find yourself in Singapore, there is always a good place to eat nearby.
Fine Dining
If you happen to be visiting Singapore for a special occasion such as your honeymoon, an anniversary, or you simply just appreciate fine dining, Singapore has plenty to offer.
A lovely place to enjoy a delicious meal with your loved ones or friends is at Akira Black. Akira Black is a contemporary Japanese restaurant that offers a modern atmosphere with plenty of seating options that include intimate seating options for a more private experience. The food at Akira Black is extremely delicious and unique, with a large menu full of hot and cold Japanese options. Akira Black adds its own twist to each dish.
Another restaurant that needs to be talked about when mentioning fine dining in Singapore would have to be Les Amis. Les Amis is a French restaurant that offers delicious food and a classy atmosphere. Not only does this restaurant ooze class and luxury, the head chef (Chef Lapinoy) is a master at his craft and brings art to the table that tastes just as good as it looks.
Casual Dining
When looking for good food in Singapore, it is not hard to find. A great example of tasty casual dining in Singapore would be at The Social Outcast. The Social Outcast offers mouth watering burgers, wood-fired pizzas, delicious wings, and melt in your mouth ribs. The Social Outcast also offers a secret menu, so keep your eyes open when stopping at this fun and delicious restaurant.
A Garden Oasis
When picking Singapore to visit for your next vacation, you have certainly picked the right place. With so many things to do, so many things to learn about and appreciate, visiting Singapore will be an experience that you will be sure to remember for the rest of your life. Whatever the occasion, you won't be disappointed visiting this lovely part of the world.