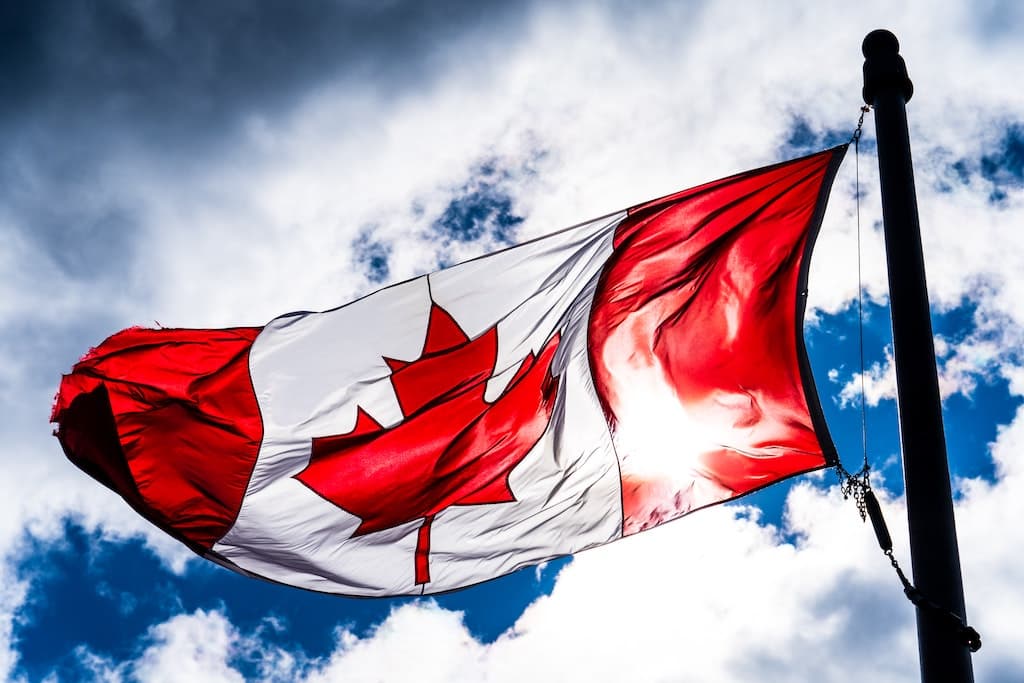 Photo by chris robert on Unsplash
Welcome and Bienvenue to the Great White North! From the soaring mountain ranges of British Columbia to spacious prairies of Alberta, Saskatchewan, and Manitoba, bustling cosmopolitan cities and charming small towns of Ontario and Quebec, to the forests and seaside communities of Nova Scotia, New Brunswick, Newfoundland, and Labrador and beyond to the vast expanses of Yukon, Nunavut, and the Northwest Territories, Canada is truly a travel destination for every traveler. If you've set your sights on this diverse and proud country for your travel plans, we've got you covered. Read on for answers to some of the most common travel questions regarding Canada, and for some of our favorite selections throughout this beautiful country.
Frequently Asked Questions
What are the current travel restrictions with Canada?
Currently, fully vaccinated (having received two doses of a vaccine approved by the Canadian government) travelers to Canada need only complete the ArriveCAN before coming to Canada. This is a simple and straightforward process where travelers will provide the Canadian government with typical traveler's info (passport, contact information, etc) as well as proof of their vaccination. We recommend also bringing accepted copies of any traveler's information and vaccination history in case you are subject to further questioning while entering Canada.
Do fully vaccinated travelers need to quarantine upon arriving in Canada?
No, fully vaccinated travelers do not need to quarantine upon arrival.
What do travelers need to do while in Canada?
While encouraged, since the 25th of April, 2022, travelers are not federally required to mask in public spaces, monitor and/or report signs/symptoms of COVID nor quarantine if someone in their party tests positive. However, private businesses may have their own rules regarding masking and providing proof of vaccination.
What is CA$100 in US Dollars?
For the past year, one Canadian dollar has fluctuated between $.75 to $.80 United States cents, making CA$100 around $78 United States dollars. For this reason, eyeballing the prices in Canada to between 75% and 80% and rounding down is a generally accurate method for American travelers to understand what they are paying. However, as in America, sales tax is not included in prices and tipping culture is prevalent, so be sure to budget for these!
What is the average hotel price in Canada?
Being such a vast country, prices will depend on location and the amenities desired, with budget two and three star hotels averaging CA$90 to CA$130 ($70 - $100 USD) four star stays averaging closer to CA$140 to CA$190 ($110 - $150 USD) and luxury stays upwards of CA$320 ($250 USD).
How much money do I need for two weeks in Canada?
Again, this will vary considerably depending on your specific travel plans and interests, but being a highly developed economy, Canada is a more expensive country to travel in. With the average meal at an inexpensive restaurant after tips and taxes at around CA$22 ($17 USD), car rentals averaging CA$70 ($54 USD) per day, hotels averaging CA$140 ($110 USD) and entertainment options at around CA$25 ($20 USD), you can expect to spend CA$4200 ($3300 USD) in two weeks, not including flights to/from Canada. Of course, shopping around, using coupons, travelling in larger groups, using public transportation, and staying with friends and family can help reduce costs.
Where should I go in Canada for the first time?
A country with so much to offer, if you are wanting to visit Canada but aren't sure where to start looking, continue reading for some of our favourite highlights of travel in Canada!
Vancouver and British Columbia
British Columbia. This is Canada's beautiful province on the Pacific, boasting stunning views over dramatic mountain scenery, pristine lakes, lush forests, expansive beaches, and a seemingly endless selection of outdoors entertainment. Complimenting this wide variety of nature-oriented activities is the buzz and excitement of Vancouver, British Columbia's largest city, home to a lively arts scene, enviable roster of restaurants, and vibrant collection of nightlife, navigable downtown, and charming parks.
For those who are centering their visit to Canada around Vancouver, there is plenty to do, with a number of nature attractions such as the memorable views on the Capilano, or Lynn Canyon Suspension Bridges, ample photo opportunities and picnicking at Stanley Park, skiing, snowboarding and ice skating overlooking Vancouver at Grouse Mountain, and the tranquil atmosphere of Lighthouse Park and Pacific Spirit Regional Park.
In addition to the scenic attractions around the city, there is also iconic Granville Island, a great photo opportunity and center of small business, the impressive Vancouver Aquarium, inspiring exhibitions at the University of British Columbia's Museum of Anthropology, the eclectic mix of sights in Gastown, and last but not least, the absolutely mouthwatering roster of restaurants, cafeterias, kitchens, and eateries of Vancouver's strong Chinese-Canadian community, found all over the city, in hotspots such as Vancouver's Chinatown or Richmond. (and it's famous night market!)
For those travelers wanting to see British Columbia farther from Vancouver, inland are many popular winter sports areas and resorts. These include areas such as former Winter Olympics venue Whistler, or the mountains around picturesque Kelowna. For much of the year, skiing, snowboarding, mountain biking, and other extreme thrills are available for the experienced daredevil and the beginner traveler alike.
Those who want to experience a more tranquil side of British Columbia will enjoy all that neighboring Victoria Island has to offer, just a quick ferry ride away. Here, visitors will delight in countless beaches, streams, and forests such as Pacific Rim National Park Reserve, charming Victorian architecture such as Craigdarroch Castle, or small, beautiful escapes in towns such as Tofino or Sooke.
Alberta
Alberta. The most populated of Canada's Prairie provinces, this is where ice hockey, famously wild land and cosmopolitan cities meet a long-celebrated heritage of rodeo, cowboy culture, oil fields and the wide prairies of the eponymous region. travelers to Alberta will come to know a whole new part of Canada's storied and diverse identity, and won't run out of things to do here!
The larger of Alberta's two major cities, Calgary offers ample space for outdoor recreation, a formidable presence in the arts, rich history and of course, a myriad of opportunities to embrace uniquely Canadian heritage.
Calgary Tower and Calgary's downtown is a great way to start off any trip to Alberta, providing views over the province in the center of a bustling location. Families will enjoy Calaway Park and WinSport alike for their thrilling rides and exciting summer and winter sports venues, parks such as Weaselhead Flats or Nose Hill to witness abundant wildlife, Studio Bell or the TELUS Spark Science center for invigorating and imaginative exhibits, and locations such as Fort Calgary and Lougheed House for an immersive introduction into early Alberta.
Edmonton
Rivalling Calgary is Edmonton, the other major city of Alberta, featuring outdoor recreation, remarkable parks and trails and a number of captivating institutions.
Elk Island is a great place for visitors to witness the majestic Bison, dozens of species of birds and, well, Elk in their native habitat, while Snow Valley, Rabbit Hill and Sunridge will have visitors spoilt for choice when it comes to skiing, snowboarding, alpine skiing and ziplines for the experienced and the beginners alike.
The Royal Alberta Museum is a great way for travelers to learn about the history of this province from prehistory to the present, and shoppers will never want to leave the massive West Edmonton Mall, the second largest shopping mall on the continent after the Mall of America, featuring a waterpark, amusement park, and an ice sculpture exhibit!
Outside of the Calgary - Edmonton corridor, there is also revered Banff, boasting the stunning colours of glacier-fed Moraine Lake, the thrills of Mount Norquay, or the dramatic landscape of Southeastern Alberta.
Throughout this province are also a number of small, absolutely charming towns for those getaways from your getaway, such as Medicine Hat.
Toronto and Southern Ontario
Canada's biggest and baddest city, famously vibrant, diverse and filled with attractions, those travelers to the Toronto area might have a harder time finding themselves without anything to do than the opposite! We'll help narrow down the monster task of planning an itinerary for this massive city, read on for some of our highlights of Canada's largest city.
Needing no introduction, CN Tower is a must-visit for those visitors who want to get a view over the Greater Toronto Area and Lake Ontario, an unparalleled photo-op, there are also countless museums and institutions of Canadian and Toronto heritage such as the Royal Ontario Museum, just as brilliant in distinctive architecture as in the impressive number of exhibits, elegant Casa Loma, a window into an exciting period in Toronto history, the revered Hockey Hall of Fame, where the best in the nation's past-time are honored, family-friendly Ontario Science Center with its engaging exhibits, or the majestic Aga Khan Museum.
Those with the chance should catch a Raptors game in electrifying Scotiabank Arena, and shoppers will delight in the sights and activity in buzzing CF Toronto Eaton Center. Canada's Wonderland is a great daytime getaway for those who want to delight in Toronto's favoured destination for roller coasters and thrill rides, while the Toronto Zoo is a one-stop to tour and meet some of Canada's most celebrated wildlife. Those who want a getaway to the peace of small-town Canada will enjoy touring towns to the south-west such as Guelph, Kitchener and London.
Niagara Falls is a great road trip activity for those in the Toronto area, with its own festive district and lesser-known parks near the falls themselves, also passing by attractions such as Ontario's Wine Country.
Ottawa, Gatineau
Canada's capital city is also a destination for all to enjoy. Here, visitors can tour the intricately ordained locations of national government and numerous cultural, historical, and scientific institutions, as well as experience the proudly unique French-Canadian way of life just over the Ottawa river in neighboring Gatineau. Read on for some of our favorite highlights of the capital region.
First and foremost, there is Ottawa's most famous resident, Parliament Hill! The striking Neo-Gothic home of Canada's Senate and House of Commons is flanked by a number of pleasant gazebos, footpaths, and wooded areas, and is a great introduction for visitors domestic and foreign to Canada's government.
There is also a number of acclaimed museums here in Ottawa for those who want to learn more about this great country, from the Canadian Museum of Nature, Canada Science and Technology Museum displaying the best in Canadian scientific achievement, the Canadian War Museum remembering the service of the Canadian armed forces over two hundred years, and the Canada Aviation and Space Museum.
There is also breathtaking Notre Dame Cathedral, a gorgeous relic of the 19th Century, Major's Hill Park, and the Peace Tower, and also the National Gallery of Canada and its deep collection of Canadian artwork.
For those wanting to enjoy nature around Ottawa, there are also the scenic Prince of Wales Falls, Rideau Falls, offering captivating views of the Ottawa river, or enchanting Pinhey Forest.
Across the Ottawa river is Gatineau, a majority-Francophone (but largely bilingual!) city, home to attractions such as the Chaudiere Falls, the Canadian Museum of History, historic Jacques-Cartier Park, and the colors at gorgeous Gatineau Park.
Farther outside of Ottawa and Gatineau visitors can tour other points of interest such as the skiing at Mont Sainte-Marie, or the otherworldly Bonnechere Caves.
Montreal
Canada's second largest city, Quebec and French-speaking Canada's biggest center for industry, the arts, tourism, commerce, culture, diplomacy and more, visitors will find something for everyone here in Montreal. With a bustling presence in education, motorsports, visual arts, e-sports, ice hockey and so more, deciding on a slim itinerary can be difficult with these many options. Read on for some of our favorite things to do, see (and eat) here around Montreal.
Blessed with a striking array of one-of-a-kind architectural projects around the city, visitors are greeted with truly unforgettable sights around every corner here in Montreal, such as the Notre-Dame Basilica, with its globally-celebrated Gothic Revival architecture, the surreal Biodome, one of the most memorable remnants of the 1976 Olympic Games, Le Musée d'art contemporain de Montréal, one of Montreal's proudest residents, home to a wide and historically impactful collection of contemporary art, (the first contemporary art museum in the nation!)
The Canadian Center for Architecture (a surprising addition to this list), Chateau Ramezay - a truly immersive step back into the residence of the governor of Montreal as it were in 1705, the bold Casino de Montreal and the largest casino of Canada, and La Grande Roue de Montréal, an imposing ferris wheel offering wide views over all of the Montreal area, just to name a few.
In addition to these landmarks, there are also other centers for thrills, recreation and shopping, including La Ronde, the Montreal area's preferred destination for all things rollercoaster, Jean Talon Market, Montreal and North America's largest open air market, the Montreal Science Center, with its "edutaining" and interactive exhibitions suitable for travelers of all ages, and the Montreal Insectarium, (not for the faint of heart).
Be sure to end your visit to Montreal with a stop by Mount-Royal for great views over the city and a visit to the city's namesake.
Quebec City
Quebec's second largest city, famously filled with striking buildings, hotels, and winding streets reminding visitors at every turn of the city's past as one of the oldest European settlements in North America, all will delight in the distinct atmosphere of Quebec City.
Making appearances in the media, consciousness, and imagination of Canadians and people around the world, Fairmont Le Chateau Frontenac's formidable presence over the city is indeed one of the city's biggest attractions, if not the nation's. This is a grand castle hotel overlooking much of Old Quebec with its ornate towers, steep roofs, and dormers, where all visitors will feel like royalty touring its grounds.
There is also colorful and charming Quartier Petit Champlain, where visitors can stroll along an eclectic mix of small businesses, kitchens and creative houses, we recommend trying the Poutine!
There is also Quebec's own Parliament Building offering free guided tours, La Citadelle de Québec, a trip into Quebec's earlier past, farther out of the city is Montmorency Falls, another of Quebec's most celebrated sights, Stoneham Mountain, offering skiing and snowboarding throughout the winter, or Mega Parc, for those who want to enjoy thrill rides and rollercoasters, whose labyrinth-like interior provides for a unique visit.