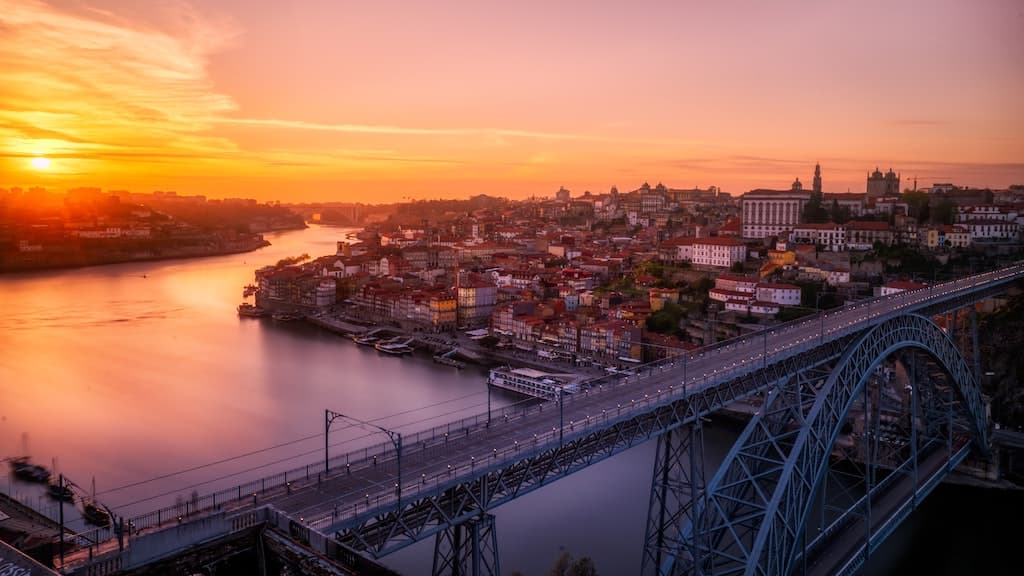 Photo by
Everaldo Coelho
on
Unsplash
Portugal. This scenic and ancient land is one of Southern Europe's most celebrated getaways, a country rich in storied coastline, revered gastronomy, and a unique mix of sights, sounds, smells, and tastes that continues to draw visitors from across Europe and beyond. One of the oldest nation states of Europe, spanning from the idyllic landscape of Iberia's west far into the Atlantic, and home to the likes of Vasco Fernandes, Luis Vaz de Camoes, and Ronaldo, those who come will encounter countless tales and experiences. Whether you're definitely set on Portugal as your next destination or are browsing different locations for the next adventure, there's much more than immediately meets the eye. Read on for some of our favorite highlights and things to do around Portugal, and discover a captivating new world.
Frequently Asked Questions
Do I need to be vaccinated to travel to Portugal?
As of July 1, 2022, it is not required to present a negative test result for COVID-19 or proof of vaccination, nor a recovery certificate. However, many airlines, travel services, and attractions may require or ask for these items, so it is recommended to check ahead of time if you are unvaccinated. This also is the case if you are on a multi-leg trip, whether vacationing/visiting another country before Portugal, or have a transfer/layover/stopover in another country. For these purposes, and to avoid difficulties in other parts of your vacation (or in catching an important transfer), we recommend checking for the vaccination and testing requirements for every part of your trip to and from home, as well as any other locations you will be visiting outside of Portugal.
How much is $100 in Euro?
At the time of this article, $100 United States dollars is between €96 and €97 euro. The period of a strong dollar is over, but thankfully, the dollar is not too much weaker than the euro. For this reason, conversion in prices should be quite straightforward, usually within $1 to $4 more expensive than the number in euro with purchases under €100. For larger purchases, such as luxury products, fine dining, car rental, or VIP tickets, the difference may be a little larger, but should not be notably larger unless you are purchasing a more expensive product (€2000 or more).
How can I travel to Portugal in 2022?
With very few restrictions for travelers, Portugal can be reached via air, rail, bus, and car connections from Spain. Nearby Morocco is not an uncommon stopover or transfer for flights, but ferries from Northern Morocco will take significantly more time to arrive in Portugal. Most travelers from North America will probably elect to fly directly to Portugal or transfer in. However, due to its location in the extreme west, Portugal is also a convenient first leg to Europe, or the last leg if you are planning a Pan-European tour.
Dom Luis I Bridge
Overlooking the picturesque cityscape of sleepy Porto, the Dom Luis I Bridge is one of Portugal's most iconic sights. Great for photos, gazing over the city, or enjoyable walks with a view or along the river, the Dom Luis I Bridge is a beautiful, laid-back addition to any travel plans around Porto. Visitors may also elect to bike along the bridge, take light rail, or ride in a car over the Douro. If you'll be in Porto, make sure to save a spot for the mighty Ponte de Dom Luis I.
Graham's Port Lodge
Those wanting to enjoy the best in Portuguese food and drink will delight in the selections of wines, pairings, and views at Graham's Port Lodge featuring various tasting menus including vintage Tawny, Local Wines, Quinta dos Malvedos, and delectable local cheeses, chocolate, grapes, and tarts. Also of interest is the tour of the cellars guided by your very own port expert, giving a more immersive introduction into port wines, local and imported. Whether looking out over the bustling port or in a private room, visitors can relax a while with an esteemed collection of fine tawny and port.
Ria de Aveiro
Along the charming city of Aveiro is the primordial and wild Aveiro Lagoon, one of Europe's last surviving, untouched coastal marshlands. Here, visitors can witness a variety of bird species year-round, artisan fishing, unique vernacular shipbuilding, and the collection of the prized flor de sal, one of the most expensive and coveted salt varieties. Whether strolling along the peaceful avenues of the city, riding in a beautiful Moliceiro Boat, watching the diverse wildlife, or a tour into the world of the flor de sal, Aveiro and its lagoon are a hidden gem of Portugal.
Joanine Library
Sitting proudly over ancient Coimbra, the Joanine Library is a beautiful legacy of the reign of King John V, regarded as one of the most beautiful libraries in the world. Today, it is the heart of the University of Coimbra, possessing over 200,000 volumes, including many rare and historically important documents. The ornate Baroque craftsmanship of the interior with impossibly complex archways, shelves and detailing is also a sight to behold.
Sumol Summer Fest
Whether on the Alfama or in the idyllic countryside around Lisbon, the Sumol Summer Fest is a great highlight for all visitors coming to Portugal in the summer months. Featuring major acts such as Burna Boy, Piruka, IAMDDB and plenty of hot local acts, this is a must-do for all festival goers, music lovers or those who just want to enjoy the Portugal sun and vibrant crowds this summer. Pass your summer with the fervor that sweeps over Southern Europe's sunny beaches and venues on your next trip, at the Sumol Summer Fest.
Festival de Sintra
Tracing back to the days of Ferdinand II and his intense love for music, today, the Festival de Sintra lives on as a colorful and enchanting showcase of Portuguese music. In particular is the iconic Fado genre, on showcase during this festival, but also the long tradition of Portuguese opera, romantic chamber music, pieces for piano and music of nineteenth century Portugal. Whether to tour Portugal's widely celebrated musical history or to just enjoy good music around this beautiful city, mark your calendars for the Festival de Sintra.
Palace Pena
Another striking sight of Portugal is the colorful Pena Palace, overlooking Sintra and distant Lisbon from the heights of the Sintra Mountains. One of Portugal's seven great wonders, Pena Palace is an otherworldly mix of diverse architectural styles outlining the nation's turbulent past. From intricate Moorish tile, stained glass works, the soaring royal room, and a blend of Neo-Islamic, Neo-Gothic, Neo-Manueline, and Neo-Renaissance tell a story of bold vision through the ages. Whether exploring its endless grounds, hallways, and chambers, or to look out over old Portugal, the Pena Palace is a great addition to any itinerary.
Quinta da Regaleira
A captivating blend of Gothic architecture nestled in a verdant, lush landscape that swallows all around it, visitors will feel as if they've stepped into another land and another time with a trip to the Quinta da Regaleira. However, this lavish project was actually only developed in many of its more famous sights in recent times—within two centuries ago. Today, with a subterranean system, inverted tower, and massive garden, the Quinta da Regaleira provides for well over a day's worth of wonder and exploration among its enigmatic and harmonious spaces. Come and meet the Quinta da Regaleira and spend a while in this estate of beautiful intrigue.
Cascais
One of Europe's most popular seaside getaways for royalty and the imaginations of artists alike, Cascais is known as one of the most lavish and extravagant parts of the country. Today, Cascais is known for its sunny and vast beaches, charming neighborhoods, blend of ancient architecture and an easy-to-navigate layout. Dramatic sights such as the Boca do Inferno are just outside town, while the bustling Cascais Marina and Mercado da Vila are great stops around the town. The Casino Estoril provides for an exciting mix of roulette, blackjack, and live performances, and the Praia do Guincho is a great place to take on surfing and windsurfing.
Alfama
Lisbon's oldest neighborhood, dating back to the days of Arab rule, today the Alfama is a storied collection of churches, ancient buildings, celebrated restaurants, and Fado music. With charming tram lines running alongside buildings from the 12th century, the character of the Alfama is a unique one to behold here around Lisbon. Bordering on one side is the iconic Sao Jorge Castle, and to the other side the mighty Tagus, confining this maze of narrow, storied streets. For those travelers who like to explore and conquer their own little area, as opposed to a detailed plan of attack—the Alfama is a sure stop.
Oceanario de Lisboa
Site of the '98 Expo and the largest indoor aquarium in Europe, the Lisbon Oceanarium is a highlight of Lisbon, with over 450 species represented among 16,000 animals. Here, visitors can tour the aquatic wildlife of Portugal, the Azores, and beyond. Penguins, chimeras, seahorses, coral, cuttlefish, sharks, sunfish, spider crabs, sea otters, and more can all be found here at the Lisbon Oceanarium, in a massive complex this side of the Parque das Nações.
Ponte 25 de Abril
American visitors might immediately notice the uncanny likeness to another famous, familiar bridge, the Ponte 25 de Abril is a notable sight of Lisbon, stretching over the Tagus in a striking red, and one of the longest suspension bridges in the world. Whether as a ride over the bridge, a backdrop to a photo shoot, or just to stroll along the Tagus with a view, the Ponte 25 de Abril is another highlight of Lisbon for all who visit the city.
Lisbon Carnival
The original carnival, one of the biggest highlights of the capital, is an electrifying event of color, music, costumes, pageantry, gastronomy, and folklore. A mix of Portugal's long history of parades for the public around Lisbon and the modern, people take to the streets for a week of live music, feverish dancing, striking costumes, and celebration. Whether to enjoy the festivities, take in the colors, dance with the people, or enjoy carnival specialities and seasonal fare, Carnival in Lisbon is a magical time and a great experience for travelers of all backgrounds.
Arrabida Natural Park
A scenic coast of mountain ranges, pristine beaches, steep cliffs and ancient buildings hidden among the mix, Arrabida Natural Park is a beautiful vacation from your vacation and one of the most beautiful sights of Portugal. Whether hiking up into the foggy heights, a day at the beach, or exploring these vast areas, Arrabida Natural Park is a prime destination for the outdoors.
Evora
Boasting a Roman temple, the ancient Evora Cathedral, aqueducts spanning the countryside, and more, those who put history and scenery at the top of their list will love the town of Evora, as beautiful as it is storied through the ages. Featuring buildings from Roman times, to the Mediaeval ages, and through the modern era, Evora is a town that punches well above its weight in historical importance. Here, visitors can quite literally step back in time wandering these numerous historic buildings and sites.
Capela dos Ossos
One of Evora's best known monuments is the Chapel of Bones, with an interior famously covered and decorated with human skulls and bones. A sight like no other, this is one of the most striking and impactful sights of the nation, much like the famed Catacombs of Paris.
Liga Portugal
Portugal is also a famed nation for its footballing past, and visitors looking to engage in the local sporting culture will enjoy the electric and exciting atmosphere of a Liga Portugal game. Producing the likes of Nene, Nuno Gomes, Luis Figo, the mighty Eusebio, and Cristiano Ronaldo, Liga Portugal is a great way to enjoy and witness world-class football, in cities and clubs all over the country. For those visiting Portugal with a penchant for football or sport, tickets to a Liga Portugal game are a good addition.
Ponta da Piedade
A dramatic view of rock formations shooting out of the Atlantic, this escape not far from the town of Lagos is one of Portugal's most celebrated sights. Whether looking out over the rocks, a great photo opportunity or walking along the coast, Ponta da Piedade is a definite stop for all around Lagos. Visitors can also elect to tour the rocks up close by boat, and also explore the old lighthouse, now over a century old.
Praia Sao Rafael
Golden sand, clear water and sunny limestone cliffs are just the start of the beach experience here at Praia Sao Rafael. Whether surfing, swimming, basking in the sun, a vibrant boardwalk, eclectic mix of nearby rock formations, Praia Sao Rafael is a popular summer destination and provides for over a day's worth of fun for the whole party.
25 Fontes
Out in the interior of Madeira island, the 25 Fontes is an otherworldly sight, an emerald, lush, and ancient landscape of waterfalls that has made it one of the most popular hikes in the world. With an intricate system of footpaths, levadas and trails, explorers will relish in the sights up in the heights of Madeira Island, a land of mist, greenery, and primordial wilderness.
Poca da Dona Beija
Treat yourself this trip to the Azores and enjoy the hot springs of Poca da Dona Beija, an exotic sight, with relaxing thermal baths amid a tropical setting of greenery and trees. A day with the spa treatment lost in the wooded area around Poca da Dona Beija, this is a great option for groups, couples, and the solo traveler alike to relax and unwind in a uniquely green setting.
Sete Cidades
A hiker's paradise, Sete Cidades is a tiny town into the interior of Sao Miguel shrouded in mystery and myth, owing it's name to the story of seven Christian communities established in the aftermath of a desperate escape from Muslim forces in the early medieval ages. While these seven cities have never been proven to have existed, what is absolute is the beautiful diversity in landscapes around this region of the island, with lakes, craters, volcanic structures, and forests making up an incredibly varied escape.
Ponta da Ferraria
Another hotspot (literally) is the Ponta da Ferraria, a collection of natural hot thermal baths, and natural hot springs. With a spectacular high tide, volcanic rock pools, lookout spots, and more, Ponta da Ferraria is a great highlight of Sao Miguel. Whether indulging in the more private pools or the unique phenomena of what feels like a hot tub connected to the ocean, this is truly a one of a kind experience. Mark Ponta da Ferraria for your itineraries and lists around Sao Miguel and the Azores, and enjoy one of the more unique aspects of Macaronesian geography.